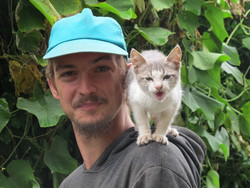 Pete Martin

Lajes das Flores, Azores
Life Coach, Relationship Coach
CTAA
I coach people who wish to achieve simple, effortless actualisation. I practise holistic coaching using a range of techniques including mindfulness, meditation, and elements of CBT and ACT.
Details

Lajes das Flores, Azores
00351969272752
Send Message
Hourly Rate: €20 to €60 Euros
About Me
I am a life coach based in the Azores, Portugal, working with clients all over the world. I have a BSc from St Andrews University and am an accredited counsellor (CTAA). I have specialist training in working with men with depression and anxiety.
I take a holistic approach to life-coaching, discussing all aspect of life with my clients including diet, exercise and lifestyle. I believe in the power of simple living, unburdened by the complications of modern life. I help my clients to prioritise their lives and the things they value most in order to help them achieve their goals.
Ultimately, any change must come from within the client. I am here to help and support you on your journey to becoming the person you wish to be. It does not matter if you don't know who that is yet, as this is the first step on the path to effortless self-actualisation.
I live on my organic smallholding on Ilha das Flores, Azores with my wife, our two dogs and our cat. We grow most of our own food and have recently begun to produce our own clothing using sheeps wool. In my spare time I enjoy gardening, spear fishing, electronic music production and studying ancient history.
Reviews
Pete doesn't have any reviews yet.