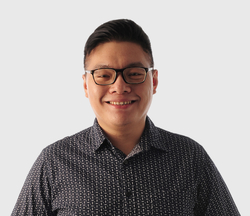 Life Coach, Performance Coach, Business Coach
BS, Certified Practitioner of Neuro Linguistic Programming, Certified Professional Life Coach, Certified Life Purpose Life Coach
I coach professionals to regain their power to confidently pursue their life & career goals with clarity and purpose by addressing their limiting beliefs, past experiences, and untapped potentials.
About Me
Are you a driven professional who is smart, resourceful and motivated yet lately has been feeling demotivated, frustrated and stuck? 
- You seem to be doing everything else except what you really meant to do 
- You have personal & career goals and ambitions you want to achieve, but you don't think it's possible because you're not confident in yourself
- You overthink all the options & outcomes, and end up doing 'nothing' which makes you feel 10x worse
- You begin to doubt yourself & your abilities despite all that you've achieved so far
- You're frustrated with the minimal progress you've made with your life

If you relate to any one of the above, it's because you are stuck at the "decision making" phase. Decisions that:
- Puts you outside your comfort zone
- Can potentially change the entire trajectory of your life
- Might not be ideal to your family, friends, or society
- You know deep down in your gut you have to make but too afraid to act
I firmly believe that success and fulfillment in life is not always about doing the right things. Let me ask you, "Doing the right things according to who?"
Our lives are shaped by our decisions. And you must decide where to direct your focus. A fulfilled life is about making bold decisions that empowers you - A decision you've made that might seem radical at the time but it makes all the difference.
My role as your coach is to serve you powerfully, to be your confidant, your pillar of support, and your accountability partner.
We'll work together to get connected with your self-limiting beliefs, inner critics, and past experiences so that you can develop empowering decision making skills that aligns with your values and purpose. When that happens, you'll be able achieve your ambitious goals, create the future you desire, and become the very best version of yourself.
My qualifications:
- Certified Practitioner of Neuro Linguistic Programming (NLP)
- Certified Professional Life Coach
- Certified Life Purpose Life Coach
Reviews
After working with Ping and attended his workshop, I've learned to be more acceptance of who we are, what we are, and focus more on what we can do, focus on the positive things that's up for grab out there. One month after working with you, what resonates the most for me is the feeling that anything is achievable, anything is possible, which is an affirmation on the right mindset to go forward with in life. You've been a great coach and mentor throughout our time working together, even though we are not exactly there with you. Your presence can be felt by the other 100 participants in the virtual room, and that's awesome.

Vira Risnayani
The Smart Way To Find A Coach

1 Describe Your Goals

2 Get Matched

3 Free Consultations
Find My Ideal Coach Now