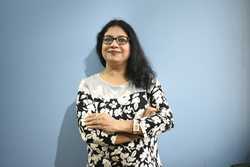 Preeti Khare

Bhopal, Madhya Pradesh
Relationship Coach, Life Coach, Performance Coach
MBA, MSA ( Central Michigan University) USA
Divorced or Separated? I offer coaching Pre and Post marriage. Help Young couples in deciding the right match. Interpersonal Relationship management/ conflict management with peers/ employer.
About Me
Preeti Khare an MSA (CMU, USA) is an Internationally Certified ICF-PCC Coach. Worked in the US and Dubai and recently relocated to India.
She is keynote Speaker/ Mentor, Trainer and a Transformational Relationship Coach. Her clients say that she is exceptionally compassionate and empathetic coach who brings her full presence in her sessions that makes her coachees completely open up and feel at ease to share anything they want.
As a Relationship coach, she helps couples to reduce conflicts have harmonius relationships in their marriage.
She also prepares and helps youngsters in decision-making with respect to marriage.
Her coaching philosophy is that individuals are born with immense potential, waiting to be realized. With a non-judgemental approach she partners with the client & provides a safe psychological space. She uses Self awareness, EI, Positive psychology & Appreciative enquiry to bring out the best in Executives, Young Professionals, Students and Homemakers. She enables them come out of their limiting beliefs, self doubt and gain confidence, focus, courage, comfort to level up their game in personal and professional lives.
She is empaneled as a Coach with Universities and is coaching faculty & students, in dealing with current uncertainty using tools and techniques so they gain clarity, focus and control.
Additionally, she is working with the corporates, coaching their functional and business heads on their personal and professional goals. She is passionate for women empowerment and is the President, WICCI Coaching Council for MP State. WICCI is Women Indian Chamber of Commerce and Indiustry. Her council and she are coaching individual start-ups, Corporate leaders and functional heads.
Preeti is a Law of Attraction expert and a spiritual coach who helps her coachee visualise and use sprituality as a tool to stay grounded and realize their goal towards a more fulfilling & joyous life.
Reviews
8 reviews (5.0)
It has been a great experience having coaching sessions with Preeti. I have taken her guidance both professionally and personally. She is a wonderful human being. I reached out to Preeti when i have been feeling low personally as well as professionally. I have always felt positive after taking sessions with Preeti and realised my patterns which i need to correct. There may be some instances which you may never think of doing but then you need to just trust her blindly and you will yourself see the results. She is doing an amazing work of positively impacting lives. My Best wishes to her.

Priti
I had a session with Preeti a couple of weeks back. I was stuck doing nothing for sometime and found it quite frustrating. Preeti, with her patience and presence, created a beautiful spce for me to think. we had an action plan.. what didn't happen for a long time got initiated the very next day and completed in a week. I do recommend her for coaching!!

Dr Srirupa Banerjee- Enabling Coach and Founder at Traverse
A soul in service of humanity, a transformational coach, you do us proud as our coach alumni. You have a willingness to grow self and others exponentially. Keep at it, keep going, keep showing Preeti!

Deep Ahuja Sharma ICF PCC- Executive and Team Coach| Consultant| Global Facilitator| Mentor| Women Achiever in Entrepreneurship, Partner, TPC Leadership
During my coaching experience, I met Preeti. A highly qualified person, I found her very passionate about building value for others through coaching on relationships. I found her very inquisitive in her journey of coaching. She could bring different value perspectives in relationships - be it between boss-subordinate, Peer to peer, family relationships - I found her adding colours to their life. I wish her all the very best in her journey of building meaningful relationships. Her focused work on this area would add value to anybody who would like to strengthen relations.

Baburaj Nair - Transformational Leadership Coach | Fellow, IoD Chief Mentor and Founder P2B Consulting
One of the most beautiful and life changing personality. The way she treat is like no one can. Glad to have her coach. Thank you so much ma'am for helping me to changing the way of my thinking.

Dheeraj Kumar - Pursuing MBA ( Marketing) Shoolini University
I was impressed by Preeti's ability to handle any situation calmly and patiently, even with the toughest clients. This natural skill of hers has helped her grab many clients for her journey so far. I wish her all luck for her further endeavours. I was impressed by Preeti's ability to handle any situation calmly and patiently, even with the toughest clients. This natural skill of hers has helped her grab many clients for her journey so far. I wish her all luck for her further endeavours.

Rashmi Bhargava - CEO, De novo Consulting
I have immense admiration for Preeti Khare for who she is and what she does. She has a very strong intent to contribute her knowledge and make a difference in the lives of whoever is open to receiving it from her. I have seen her elation and her pride brimming with happiness on the success of her coachees. She is a perfect example of a Relationship Builder. Highly recommend her.

Aarti i Narang CEO Brand Strategist and Personal Brand Stylist
Caring. Competent. Skilled. Intuitive. Results-oriented. Preeti has obviously been very well trained in an array of coaching techniques, which she deploys in a direct and clear fashion. In helping a client identify some core issues for themselves, she knows how to coach people toward solutions, rather than staying stuck in their problems. Her sincere passion for this work arises from her personal journey, which is a joyful story of deliverance from great hardship. I was quite astonished at the clarity of the outcomes of our session and recommend her highly for both adults and youth.

Dr. F. Robert Buchanan Professor of International Business
The Smart Way To Find A Coach

1 Describe Your Goals

2 Get Matched

3 Free Consultations
Find My Ideal Coach Now