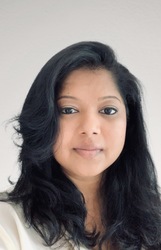 Leadership Coach, Performance Coach, Career Coach
Certified Marshall Goldsmith Executive Coach. Professional Co-Active Coach (CTI). Positive Intelligence Coach (in-training). Active member of ICF.
I work with leaders and ambitious professionals to unleash their genius in driving higher-performances, measurable results, making meaningful connections, extending influence & creating deeper impact.
About Me
"Unleashing the genius of leaders, teams, and professionals driving higher-performances, measurable results, and deeper impact."
I partner with driven leaders and ambitious professionals to support them in being more successful and creating greater impact.
We will work to -
+ sharpen leadership and workplace acumen to gain immediate short-term wins, while being strategic about your long-term gains and impact,
+ empower you to be more self-aware and self-assured,
+ develop skills to work with stakeholders effectively, extend your circle of influence, and deliver results consistently.
You will also come into your own to - own who you are, impact you can create, and be more authentic and confident and creating new pathways to get there.
Through breakthrough principles of Positive Intelligence, Stakeholder Centered Coaching, and Co-Activity, I work systematically and facilitate learning and growth.
I work with you on your goals and challenges while helping you optimize your:
+ Leadership Acumen & Competencies
+ Leadership Presence & Brand
+ Stakeholder Management
+ Circle of Influence
+ Goal Setting & Achievement
+ Workplace Success Strategy
+ Professional Development
+ (Re)Connect To Who You Are
I bring to my engagements more than 20 years of in-depth experience and experiences being a leader and working alongside leaders in top executive positions, leading global sales operations and global teams in Europe, America, and Asia. I have also been a successful entrepreneur at an early age of 24 and a business consultant.
I come from a luxury industry background, and with my passion for people development and helping people develop themselves, I diversified into professional coaching in 2019.
Reviews
Preeti doesn't have any reviews yet.