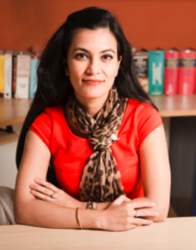 Preeti Rao

New Delhi, Delhi
Health and Fitness Coach, Life Coach, Executive Coach
MA, MS, Masters in Integrative Health Expert. Certified Health and Wellness Coach. Certified Wellness Management Expert.
I am an award winning Wellness Coach & Integrative Health Expert that is fueled to give you lasting results on weight loss, relationships, stress, life purpose, nutrition, quit smoking, diabetes & BP
About Me
Are you someone who is struggling to lose weight, beat stress & anxiety, improve social relationships , manage diabetes and BP, curtail smoking or alcohol habits?
At 'Weljii' my team of expert coaches and I use the science of behavioral change, matched with evidence based nutrition, exercise, stress management techniques, to help you create your personal road-map to recovery and wellness all holistically and naturally.
We acknowledge the importance of not only physical, but also emotional, psychological, social, and spiritual dimensions of health, and seeks to support you in exploring these dimensions. This kind of integrated approach encourages personal growth and the development of greater health awareness.
I am the recipient of ' Outstanding Women Entrepreneur Health Award , by ASSOCHAM 2019 and has been also been recognized as the 'Leading Health, Fitness and Wellness Entrepreneur' by the Times of India Group 2020 in India for my continued efforts to improve health and wellbeing from a 360 degree holistic perspective. 'Weljii' is the recipient of 50 Best Wellness Companies - Global Listing - award by the World Health and Wellness Congress.
My 25 + years of National & International experience in leading hospitals, integrative medicine centers and corporates have enabled me to blend scientific rigor with holistic self-care with emphasis on mind/body/spirit wholeness. My expertise lays in exercise physiology, nutrition, wellness coaching, health coaching, stress management, corporate wellness programs, integrated and complementary medicine, healthy aging and global health.
My team and I will help your transform lifestyle habits leading to improved health outcomes and overall wellbeing. I welcome to you begin the' CHANGE' process with us. :)
Reviews
4 reviews (5.0)
At Pickherbal we are engaged in community wellness , weight management and nutrition for over 20 + years . We were looking to reinvent our wellness offerings in the market place . Preeti helped us redesign and implement new training modules & workshops for our coach team . She introduced and helped us implement new & innovative wellness tools and techniques to serve our clients. With her inputs we have successfully implemented our new technology platform & APP . As a result of working with Preeti Our coaches are better equipped , customers are happier and our retention has improved .

Jayant Maini
Oh.. I don't even know where to begin. When I come to Preeti, my life was all over the place. I was overweight and borderline obese. I had low self confidence and was struggling with self esteem and body image issues. Though I came for weight loss... Preeti helped me understand the underlining root cause of my problem... my relationship with food and stress. I realized how I was using food as a source of comfort and not nourishment. Over months of coaching with Preeti, my relationship with food has changed ... food today does not fuel the vacuum in my life or help me combat life stresses. Today I have not only lost 8 kgs in total in the last 3 months and have regained my self confidence. I have incorporated a more holistic approach to life. As I worked on my inner self ... every aspect of my life changed. Today I have better relationships with friends and family as well. What I have learned is something that will always stay with me. I know that every cross-road, I will go back to my learnings that I have gained in the last few months.... Thank you so so much for this much needed intervention.

Neelima
Before meeting Preeti, my life was a pool of mess. Though I was successful professionally and financially, I struggled with excess weight, low energy and mostly felt tired though the day. Working with Preeti has helped me to understand how to create a renewed balance in my life. She helped me to understand the real causes of my increased weight and lethargy. For months, and with persistence she worked with me to change my lifestyle habits. Today I am healthier, fitter than every before and have managed to lose about 15kgs while learning nutritional habits and my relationship with food. I know what I have learned in the process will always stay with me and I am grateful to Preeti.

Raul Arora
I came to Preeti to manage my stress and anxiety but got so much more in return. I was someone who was constantly worrying , was easily overwhelmed , was quick to lose temper. I used my anger as an expression of stress release. As a women business owner, mother, and several other hats I wore, I struggled to say No for anything or to anyone. Over the years, my lack of self care has lead to weight gain, diabetes, bloop pressure not to mention my face looked haggard and always troubled. Preeti over months of coaching me was able to help me balance my life , create space for self care, , boost my energy levels, and help me feel happy and relaxed. I really extremely grateful with Preeti, without whom this transformation would have been possible.

Xyla R