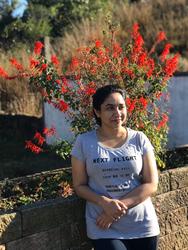 priti phatale

Pune, Maharashtra
Health and Fitness Coach, Career Coach, Life Coach
BComm, MBA, Counselling Psychology (pursuing), Agile coach
Am extremely passionate about making life better for people and can transform your life in a subtle way that would surprise even you. I am a trained professional with a proven record. Be Rest Assured
About Me
My strength lies in connecting very well with people from all age groups and ethnicities which self motivated me to pursuing a degree in counselling psychology. It gives me immense joy to see people turning poison to medicine in their life
I have over 15 years of corporate experience now transitioning into a counsellor.
I specialize in the following areas:
**Professional:
Job loss/seeker, Promotions, Starting Business
**Personality :
Confidence Building
Improving Self Esteem
Improving Self Image
Stress Management
Anxiety
Anger
Goal Setting
Relationship:
break up, divorce, premarital counselling, extramarital affairs
**Health and Fitness
mental health issues
finding motivation towards following fitness plans
PCOD/ PCOS
Pre-pandemic I was working with a local mental health center helping people with mental health issues
Besides that, I am a Reiki Master, Crystal Healer and Aroma Therapist.
I practice meditation and energy healing practices regularly.
I would like to leverage my friendly and easy approachable nature to help people.
I have a proven record and have been trained to handle professionally.
Reviews
8 reviews (4.88)
I have got an opportunity to work with Ms. Priti Phatale (Pune, India) on multiple occasions where Priti is associated with me as my Coach. I experienced Priti as a highly competent Coach in her approach and practice. She has a very unique ability to connect to the client/coachee and make him/her at ease in the journey of self-awareness. Exemplary mix of relevant questions (many times - powerful questions) helped me develop insights about my beliefs, roadblocks and strengths. At times, she challenged me to think out of box and made me think in different perspective. The conversation with Priti is such a natural process that it facilitated unfolding the deep issues/concerns/challenges in a very seamless manner, and reaching at the bottom of the issues & their causes became obvious. Priti demonstrated high quality professional ethics during the coaching relationship so far. Working with Priti is such a rewarding & pleasant experience. I strongly recommend Priti as a Coach to help one succeed in their journey of excellence. Wish you all the best.

Mr. Aniruddha Kulkarni
Priti is positive oriented and leaves a good impression on everyone she meets. She has a great aura and is a great friend to have. She has faced challenges with a positive attitude and is a good role model for fellow colleagues and friends.

Amps
I am extremely happy with the coaching I got from Priti. I was facing some life problems and challenges and needed a friend and guide. Priti was just that perfect person. She listened to my issues without any judgement and gave a realistic and practical guidance. I could talk to her freely and she motivated me everytime and I felt amazing. I have taken her guidance and coaching on various issues from home, family, children and work and career as well. She is just superb at her work with a vast experience at her benefit. All the best to Priti and you.

Arti H
Priti is a great orator. She is very clear with her explanation on topics. She makes any topic very easily understandable by giving real life examples. It was a wonderful experience, getting coached by Priti.

Megha Jaiswal
I have very positive experience with Priti. Knowing her since 15+ yrs. She is excellent in her communication and a very composed personality. She is too much into Yoga, meditation , Reiki & crystal therapy. These aspects makes her very grounded and gives her additional strength to handle her things better than others. She can deal with human very logically and reasonably. Proud to know her as a good human being

Jaynair
Priti is a highly motivated and energetic person. He councelling session were helpful for me for taking decisions which had definitive impact on my career. Rather difficult decisions or directions she made it look so simple now, looking back at those makes feel proud of her guidance. She not only helped for my career counseling but also helped me in physical and healthy lifestyle. Her councelling sessions are like general discussions where she takes her own notes and guides in the subsequent discussion. It has been interesting guidance journey that has helped me in my career and personal paths. If you have any challenges and are stuck with decision we have someone to guide you. Thanks for your support Priti! All the best for guiding and supporting other friends. Please enlighten them with your knowledge and guidance.

Mandar
There are many wonderful coaches, truly helpful people. Priti belongs to the very small subset of that group. She will hear you patiently and that is the most important thing. The kind of perspective that she brings by understanding/identifying the root cause is amazing. Her knowledge and experience run so broad and so deep, no doubt that she can go wherever you need the conversation to go. In the limited timeframe, the kind of analysis she did to make me realize the actual issues and provided pointers on how I can handle those, helping me now in day to day activities. I can, without reservation, recommend her to you! She is a great coach and best of all, a great person!

Abhijit B
Priti has coached me on developing good habits in my health and fitness área. Talking to Priti is very motivating and energetic as she carries an encouraging spirit within her. She talks to you just as you would talk to a friend. She has good knowledge in health and fitness as she herself follows a routine in her daily life. I had two sessions with Priti on health and fitness and in both times it helped me plan my fitness regime well. Thank you Priti ! Wish you all the best and hope you help others in this area as well.

Anne