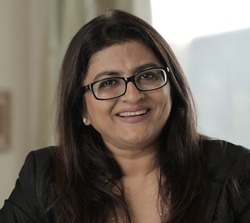 Priya Sharma Shaikh

Mumbai, Maharashtra
Leadership Coach, Life Coach, Spirituality Coach
BA, MBA
Are you having a divergent work life? Whether you wish to get on better with your team, reach your career goals or improve mindfulness, I will partner your journey with my 'SECRET GARDEN' program.
About Me
I didn't know what compelled me to do so but, I'd often scribble the phrase 'all the people' in running hand as a student, in the margins of boring textbooks, on the last page of brown-paper-covered notebooks, crammed next to the then popular FLAMES of my name with the serious and not-so-serious crushes, on scribble-pads in stationery stores while trying out the ink-flow of a new pen, on newspapers while solving the morning crossword puzzle. As I grew, the key strengths that emerged for me over the years included the ability to deliver results in a new industry and environment by relying on a strong sense backed by market analysis, developing a strategy for success and implementing an action plan to achieve stated business objectives. I was declared an excellent communicator and developed the ability to build strong relationships too.
Today with 30+ years of experience across various industries including banking, financial services, advertising, event management, FMCG and education I have honed the valuable skills of meticulous planning, business strategy, general management, communication etc. I'd like to add, that the role I take pride in the most, is being mother to my two children, now beautiful and soulful adults – they are the epitome of my nurturing and warm nature. I also enjoy writing, theatre, music, dance and indulging in home cooked food and harbour a desire to make movies when I have hung up my corporate boots.
I embraced the beautiful roller coaster ride of entrepreneurship, to put into action my endeavour to touch and improve people's lives through my company, ETC India. I trained with Peter Redding of Coach for Life, USA and subsequently started coaching and became a member of ICF. At ETC India, we keep mindfulness at the core of our service offering of leadership and life coaching as we help others, be the best they can be professionally and personally.
Reviews
Priya doesn't have any reviews yet.