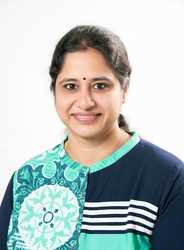 Priya Lakshmi Ugandeswaran

Manama, Capital
Leadership Coach, Life Coach, Performance Coach
Masters in Commerce (M.Com), ACC
People having the desire and willingness to achieve their dreams or win-over their struggles at professional/personal life and be stress free & happy, however, needing help to sort-out the challenges.
About Me
I am a Happiness & Stress mgt, Leadership & Life Transformational Coach – your trusted friend & catalyst – ready to help, challenge, motivate and walk along with you so that you perform your best.
I had a successful career of 20 yrs with Standard Chartered Group in India, where I rose to the position of Sr. Vice President, managing various roles - Client service, Complaints mgt, setting up of new units/migrations, stakeholder/Team Mgt, Technology Projects Mgt/implementations and Heading Liability Operations.
I am a fun loving, compassionate and positive person with high energy and my motto of life is to be happy and smile. My strengths: relationship building, professional development, strategic planning, conflict resolution, active listening, inter-personal skills and being disciplined.
I took a break to be fully available for my toddler son Keshav, so I can nurture and bring him up as a good and happy human. I used this time to develop my other interest– Coaching! I completed 18 months Coach Training progrm from International Coach Academy (ICA), Australia and became a Certified Professional Coach. I am also ACC accredited from International Coach Federation.
I had immensely enjoyed my Corporate career and I am now enjoying this new career as a Coach.
Please do connect with me if you are passionate & Enthusiastic about:
- Managing your stress & Anger
- Being in control of your mind & being happy
- Achieving your Career/Life goal
- Enhancing your leadership capabilities
- Start or take over something new
- Progressing with a stuck task/project
- Housewife's wanting to take charge of their life's
- Taking control over your well-being
- Changing a habit bothering you
- And if you are still thinking about your goals, we can start our journey
with finding out your goals first, from where you are in your life right now.
Its said that if you want to get great at something- Get a coach!
Good Luck & God bless - Wishing you a happy life.
Love Priya
Reviews
3 reviews (5.0)
To give my feedback and share my coaching experience with Priya Lakshmi, I first have to start from how I was a couple of months back. I'm a mother of 2 kids: a toddler and a baby and currently staying at home (not working). Needless to say, things got chaotic and tougher when the pandemic hit us hard. Now, I was a person who thought that one should be able to handle their own problems. So, I was a bit skeptical when I heard about Priya's coaching sessions. But things were getting out of control and so I decided it give it a try. The very first session gave me an impression that I was talking to a friend rather than a Coach. Priya was very understanding and empathetic and spoke as if she knew what I was talking about. That gave me a sense of relief and trust. As the sessions proceeded, I started relying a lot on Priya's sessions because I could visibly see the positive changes they brought to my life. It has been over 2 months now with regular coaching sessions from Priya, and I'm happy to say that though the pandemic situation has not improved much, my life certainly has and I've taken charge of my activities with a vigor and efficiency that I never thought I had in me. It's one thing to coach someone, but what Priya has done is entirely phenomenal: she has brought out the best in me and made me be a better version of myself and now it's not just me but my whole family which stands to benefit from all this. My humble suggestion: it does not matter whether someone is a professional or a homemaker, whether it's a work related problem or just household frustration; we all would certainly benefit from having a life coach. I can happily say that I got something more: I have a true well-wisher and a confidante to constantly guide me through my life!

Ramya Parthasarathi
Priya has a very warm and instinctive way of coaching. As client, you feel supported all the way. Priya has helped me gather confidence and discover new perspectives. I highly recommend her!

U.W
Priya is a coach who makes you feel comfortable from the get go and who really cares for her clients. I have been working with her for many months now and have really benefitted from her coaching. One of the highlights of coaching with Priya is that you can discuss any topic with her knowing that you are in a safe space and that she is really rooting for you. I would recommend Priya any day!

Shruti