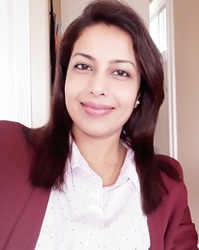 Priyanka Dutta

Gurgaon, Haryana
Life Coach, Leadership Coach
MBA, Listed amongst "101 Most Fabulous Coaching Leaders, India" by World HRD Congress, ET NOW & Canadian University Dubai in 2020
I coach individuals who are standing at the cross-roads of their lives,not knowing which path to tread & how. I partner with such individuals & support them in walking their choicest path.
About Me
Do you find yourself in this heart-mind conflict: "Follow your heart and another says you better not, instead listen to the mind"? Responsibilities have bogged you down with no time to reflect on what you truly want in life?!
Well, this is so relatable to me. I was exactly in this space couple of years back & I made the choice to walk a path that is authentic, joyous & abundantly free for me. I have more than a decade of experience as an HR professional working in the corporate, carving my path. I took sabbatical from work to raise my son & after 4 years, I chose to get back to the corporate again. I did & was heading the HR department of a start-up that I had built from the scratch. But then something was missing. That's when I made up my mind to follow my heart, my intuition & dive into something that I was good at – leadership. I wanted to lead myself from a life of prediction to a life of possibilities. That's when my self-coaching journey started. I became a certified life coach. I flew to Los Angeles from India to attend one of the leadership intensives hosted by Master Coach Rich Litvin. Then I got credentialed from ICF & bagged my ACC. I flew again from India to Victoria to attend another powerful leadership & coach intensive hosted by credentialed PCCs Adam Quiney & Bay LeBlanc Quiney. I am currently undergoing a coach program hosted & led by them along with 7 other awesome coaches from across the globe. In this span, I authored & self-published two e-books: Spontaneous Pen-A peek into my poetic insights & STOP : Stop Treating Oneself as a second Priority. I also am an NLP practitioner & have completed my Psychodrama Leadership Practitioner course, a healing modality which is so impactful & profound.

I believe in the power of coaching & what it can create. I witnessed the transformation in me & so my believe in coaching has deepened. The deeper I go, deeper I can take my clients into those places. I do & believe in deep transformative coaching.
Reviews
I found her perfect. She guided me to my unhealed past as well as help me see my future related to my goals so easily. She was successful at understanding me, my emotions, my aspirations, my strengths and my weaknesses.

Geet