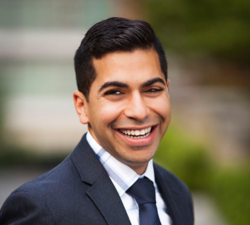 Rabee Alwan Calgary, Alberta
Life Coach, Leadership Coach, Career Coach
P.Eng., PMP
I help inspiring people remember how inspiring they are. You are someone that's looking for fulfilment, success, self worth, legacy, or purpose. All it takes is a change in perspective.
About Me
What would it be like to live an inspired life? Where everything you ever wanted, fulfilment, success, self worth, legacy, purpose, are all part of your life? Where your creativity and your potential are both fully expressed? Where you lean into the unknown and get a sense of excitement doing it? Would you believe me if I said that you already ARE that inspiring person? That everything you need to realize it is already within you? That you don't need to wait until you have the "money", the "time", the "idea", the "education" before you can start being that person? That you don't need to be anything more or anything less than you already are?
I can help you live that life without having to change a single thing other than the way you see the world. Literally, it's like removing your sunglasses and seeing things in a whole new light.
I coach people on insights. Once you realize something new about your world, you can't "un-see it". And that insight changes everything. It takes two to get there and sometimes, I won't kid you, it will be difficult. But the result is so worth it. Because you are so worth it.
From that place everything that seemed impossible becomes possible. It's that simple.
All you need is to really want it. You don't even need a coach. But...
Will a coach help? Yes.
Will a coach get you there sooner? Absolutely.
Will a coach show you what you aren't seeing? Check!
Will a coach cheer you on as you make progress? You bet.
Will a coach call you out when you're slacking? Damn straight.
Will a coach help you get back up? Count on it!
My sample sessions are not samples. It's the real deal and so many people end up getting what they need just from that.
So let's do this, ok? My mission is to help inspiring people like you remember how inspiring they are. Let me help you remember and start living that life!
Reviews
Rabee has 4 reviews.
As a young adult many times I felt lost in life. Growing up I was always told finish school, get a job and everything will fall into place. But once I achieved all the predetermined goals set to me by others, I have realized that I didn't know what to do and who I really was. Working with Rabee has helped me understand myself and really understand who I am and what I can offer to the world. He has helped guide me towards a purpose in life and worked with me to create a process that helps me break down and overcome issues that life may throw at you. He showed me how to elevate my abilities to further help my community. I can't thank Rabee enough for everything he has done for me. Rabee's passion for life and compassion for other people is very addicting and second to none.

Lucian, Engineer, Calgary
Rabee was my coach for about 4-5 months throughout the end of 2017 and the beginning of 2018. We had known each other previously through work for a few months and he had told me that he was becoming a certified coach. I asked if he would be down to take me on and the rest is history. Based on the few conversations we had before starting coaching I knew that Rabee would be a great person to embark on this journey with. His ability to listen and understand what is going on for you is what makes him a great coach. Personally, he helped me get to the bottom of a lot of things that were standing between me and happiness. Moreover, it was me that was standing in my own way. Rabee was able to help me see that and give me techniques to get out of my way and live up to my full potential. I was able to see my true values and strengths and fully be myself. With those improvements in my life, I have been unstoppable ever since and I'm on my way to achieving all of my personal goals, be it fitness, relational, or career-oriented. If you're on the fence about joining with Rabee, just trust me and take the plunge. Once he helps you see what is standing in your way, you can never unsee it. And that is the power of what coaching will do for you. Because it's not what happens to you that matters, but how you perceive what happens to you.

Dan, Engineer, Calgary
Before I started working with Rabee I felt this unrest in myself. I felt frustration and uneasiness that I should be better… I should do more. I didn't know what I wanted or even where to start. I realized in working with Rabee that I am worth the effort that I put to myself, that being scared and uncomfortable means I'm learning and growing and that I am enough. With Rabee's support I have made personal goals that I have wanted to achieve for many years but did not have the courage to try. Rabee is supportive but firm and he kept me moving forward.

Jessica, Engineer, Calgary
Rabee's feedback helped me tune in to when I am communicating authentically - awareness that has blown the roof off my effectiveness in every area of my life. I am also now getting the results I want in my relationships because I discovered what real intimacy and connection with another human being feels like through the coaching process with Rabee. His compassionate, gentle manner really helped create a space where I could be vulnerable and look with another human being at what was in the way of my transformation. I felt so good after our calls...heard/connected and inspired. I am so grateful for what I discovered working with Rabee and I highly recommend him as a coach.

Denver, Victoria BC