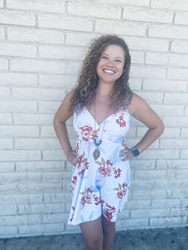 Rae Can

El Segundo, California
Spirituality Coach, Life Coach, Entrepreneurship Coach
BS, Reiki Master Teacher, Business Owner
I help people heal their mind and body from the inside out so they can live success filled and happy lives. I specialize in Forgiveness Energy Healing. Letting go is the first step to positive change.
About Me
Hi, I'm Rae!
I've been a Wellness Coach since 2013. When I was 30 years old, I just had a baby, I was going through a divorce and working a full time corporate job. I spent my days holding my emotions in, staying strong for my family and team because at the time I believed that a leader didn't have the time to fall apart.

Then one day, I was sitting in my office, went to stand up and I just couldn't. I physically couldn't get out of my chair. I was in so much pain I could barely walk. At the emergency room I found out I had a very common low back pain called Sciatica, a pinched nerve in my spine.

After 1 month of laying in bed on pain killers, with no solution in sight, I decided to take my health into my own hands. I began to research alternative approaches to health. And after a combination of many holistic healing treatments; meditation, physical therapy, acupuncture, massage, reiki and diet change, my life was transformed!

Looking back, I believe my healing strategy was a combination of so many things but ultimately the root of it all came from a shift in consciousness. My mind had to believe I was going to get better before I actually got better.

And Now, It's my goal more than ever to help people get out of pain. I spend my days spreading positive energy to assist in healing emotional pains, motivating individuals to lead more healthy lives.

These practices have moved energetic mountains for myself and my clients and I'm passionate about spreading this positive life force energy to the world. I specialize in forgiveness. Together we will break down energetic walls that are holding you back. All you need is a desire for change and the willingness to allow positive change to happen for you.

I can't wait to work with you!
Reviews
3 reviews (5.0)
A friend of mine referred me to Rae and I could not have been more pleased! I was stuck in a rut and my work and relationships were struggling. My friend had amazing results after working with Rae, so I gave it a shot. I felt comfortable talking to her and I could tell immediately that she genuinely cares. In no time, she identified the obstacles that were holding me back and created a personalized action plan that has drastically changed the course of my life. If you are ready to make a change, call Rae. You will be so happy you did!

Tiffany T.
"Our conversations have been very inspiring and I want to thank you for helping me through these challenging times. You have been a breath of fresh air and I'm so thankful that our paths have crossed for you to help me with this spiritual journey of finding inner peace. Thank you for listening and for your wisdom and positive words. I appreciate you!"

Vanessa L., Entrepreneur and Designer, Los Angeles, CA
"Rachel has proven to be an outstanding Graphic Designer. She has designed custom logos and created eye catching advertising and marketing materials for Lean Teen, Inc. As the CEO of this growing company, I feel fortunate to have her heading up my graphic design need. I wholeheartedly recommend Rachel as a valuable asset to any business. Her creative input and ability to execute design creations is second to none."

James Mander, CEO Lean Teen, Inc., Santa Monica, CA