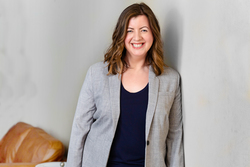 Rachel Moore

Seattle, Washington
Life Coach, Leadership Coach, Executive Coach
BA, MS, LCSW, Master Coach
If you struggle with imposter syndrome, then I am the coach for you. My 'Master Your Potential' program will leave you feeling confident, successful, and happy quicker than you might have imagined.
About Me
At 'Coach with Rachel', I bring a unique mix of positive psychology, coaching psychology, and clinical psychology to my work, where I hope to encourage transformative results that empower us to be resilient, achieve our full potential, and create well-being in every aspect of our lives.
My background in traditional therapy provides an interesting perspective on life coaching. My studies have allowed me to gain deep insight into the human brain, however, I'm passionate about helping people propel themselves forward. With a toolkit of practical and tactical activities, I'm here to be a guide, a resource, and a teammate in your life.
I believe true well-being means finding balance and wholeness as we engage in each aspect of our lives. From relationships to family to our inner voice, we can become more confident communicators, healthier spouses, and better professionals when mastering ourselves and the environments we live in.
I'm here to help you do just that.
About You:
My typical client is often a 30-49-year-old professional who has realized that despite their best efforts and hard work, that life doesn't feel as good as they thought it would.
Coaching Programs:
Achieve Your Goals - if you have a specific area of life that is holding you back from maximum potential or keeps getting in the way of overall happiness, this program is for you.
Master Your Potential - This complete 18-week program is for people who are committing to taking action and releasing unhelpful patterns of behavior, problematic beliefs, mental blocks, and unresolved suffering and anxiety.
Connect In Podcast: hosted by Rachel Moore
Reviews
Life-changing! Working with Rachel has been truly transformative for me. I cannot recommend her highly enough. I had a major setback at work and it left me really doubting myself and questioning if I had what it takes to work in finance. With coaching I was able to see myself in ways I never had before, and now I feel better about myself and my life. I can truly say, I'm happier now than I've ever been.

Emily S.