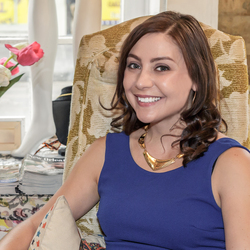 Roxie Robertson

New Orleans, Louisiana
Career Coach, Entrepreneurship Coach, Life Coach
BA, MA, MBA, iPEC Coach
Do you want to start a business, but struggle with clarity & confidence? Do you want more joy in life & work, but don't know how to start? I help people like you create abundant lives and businesses.
About Me
I work with people who aren't looking for another job -- they're looking for a life purpose; a passion. They want more joy, and the ability to make decisions based on their unique values and goals.
For many of my clients, this means breaking out and starting their first business.
Starting a business requires a great deal of clarity, strategy, and consistent execution. Without guidance, growing a business can be overwhelming. I use tools and strategies learned from years within Start-Ups and Fortune 500 companies.
Many of my clients struggle with clarity, or they experience unhelpful thoughts that create fear and roadblocks to success. I know from experience that this can create a great deal of anxiety, self-criticism, and stress.
I often start by helping my clients get clear on what they want to do, and why they want to do it. Your brain is an amazing tool, but when you are creating a passion-centric life, it can sometimes get in the way.
I help clients get clear on what is working in their lives, and what isn't. I help people vision without limitations, which can lead to surprising and exciting results. We then work backwards to take actionable, impactful steps.
There are many things to consider before starting a business, including aligning your business and lifestyle goals, understanding the people you will serve, knowing your focus, and creating your profit plan. Together, we can work through each of these steps.
If you are ready to start and grow your business, the focus will likely be on getting strategies in place to reach your goals, optimizing your website, and putting a marketing plan in place.
There are lots of business books and resources out there, but with coaching all the work we do is unique to you. Your values, your strengths, your passions, and your vision. I won't give you tools and then let you sink or swim.
I will be your partner and your support. We will work together to help you build a well-lived, joyful life and business.
Reviews
6 reviews (1 verified) (5.0)
Dana Wilson
Rachel is a very inspirational and extremely helpful coach. I was stuck in an awful position at my current job and felt trapped and not sure how to navigate into a better role. I worked with Rachel on a weekly basis and she made a tremendous impact. Every call ended with a next step and I was held accountable each week, which I enjoyed. In less than just 4 months of coaching with Rachel I was able to move into a new role within my company and also almost doubled my salary, which was a nice bonus. None of this would have been possible without the help of Rachel. I have referred Rachel to some of my colleagues and friends and they too are having great success with Rachel. Thanks Rachel!

Tim, Product Manager, Chicago, Illinois
Rachel is a wonderful, skilled and professional coach. By asking the right empowering questions, she created a lot of space for me to explore deeper personal levels. During our sessions I felt safe and understood, which allowed me to change my life perspective. I gained more confidence and decreased my self judgement. I am thankful for her guidance and support.

Lynn, Founder of InnerBeyond, Houston, Texas
I worked with Rachel several times over the past few months, during these sessions she was both thoughtful and supportive not to mention compassionate. I have struggled for a long while to get my business off the ground, my struggles included knowing next steps to the confidence to just do it and step out there and get it done. I am glad I had the opportunity to work with Rachel, as she was able to point me in the right direction with her thoughtful and deep questions. If you need a coach that can get you out of your comfort zone and into your best you zone, I highly recommend Rachel.

Treasa, Agile Software Coach, San Antonio, TX
When I first started working with Rachel, I immediately felt safe. In that safe space, Rachel gently asked intuitive questions which helped me begin to uncover what was going on deep inside of me. Rachel not only created a safe space for us to work together, she also inspired me to take step after step towards what I truly wanted in my life. Rachel continues to inspire me to be brave, because I see the courageous decisions she keeps making in her own life. Rachel truly walks her talk, and she inspires me to do the same. I always feel like my life can be the adventure I envision it to be when Rachel is coaching me, and after each session I move another step closer towards that vision.

Debbie, Founder of The Feel Alive Tribe, Baton Rouge, Louisiana.
I feel so lucky to have had the experience of being coached by Rachel. She is a thorough and patient coach who influenced me to see challenges from a different perspective, always focusing on my own strengths to move towards my growth as a business leader and member of my family. I will always be appreciative of her dedication during our sessions.

Mariana, Founder & President of Break2be, Austin, Texas