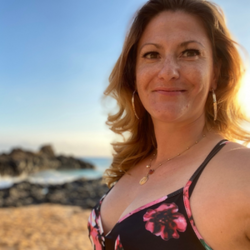 Raechelle Minney

San Diego, California
Money and Finance Coach, Entrepreneurship Coach, Business Coach
BS, 15 years in Financial Services, 5 years in Corporate Leadership, 7 years in business
I help women who want to leave their corporate job but don't know where to start with monetizing their skills or starting a biz. They are often feeling overwhelmed and stuck with where to even start.
About Me
Imagine leaving your boring job to explore the world and work from your laptop. Imagine you are actually doing work that you love too! This is the "dream" right? But how? What would your friends and family think? What about all that hard work that you did over the last 5,10,15 years to get ahead in your career? What if you start something new and run out of money?
What if... you start asking different questions. Questions from a place of abundance, certainty, and trusting yourself. Money is a tool that can provide support for all of your heart's desires...when you have a strategy that you can ACTUALLY implement. When you stop restrictive money management tactics and start building cash-flow you can make money work for you. Time to stop playing by uninspiring rules of society, of how things "should" go in life, at this age, and with this much money.
Want proof of how it can be done? I did it. As I'm writing this, currently traveling through Europe and next up Bali, I want you to experience this kind of deep fulfilling life too! 8 years ago I experienced health problems that left me mentally, financially and spiritually broken. I knew I had to change and get my health in order, get out of debt and get uncomfortable. I was playing life too small and I finally realized it. I want you to experience the kind of life that excites you from the moment you wake up, allows you to go to that great cafe everyday, help add value to other human's lives, workout at your favorite studio, buy the vacations you want and rest peacefully every night. You are worthy of it and I know how to guide you to the outcomes of your deepest desires with money, time and location freedom. You can follow my journey on Instagram @abundancequeenlife. If you find me there, say hello!
You get to chose the transformation you want and commit to be all in on your dream life. Failure is not the problem, refusing to get back up and try again is. Get up, keep going, that is what matters most.
Reviews
5 reviews (5.0)
Life changing I mean I am not sure what else I can write in this review if I am honest. I want to cry when I think of all the love support and growth I have had from the Master Mind that Rae has created. A safe place for growth moving you into that Queen energy. She is an empowered women who simply wants to empower others! I started the Master Mind to make 100k I left with so so so much more. I made 100k but also I love myself more than I ever thought possible, I know my value I understand my worth, I am happier.. I mean what else is there to say.. Rae saw the women I could be and gave me the tools and techniques to become her bad self! I have made life long friends with my Master Mind group and can not wait for my next chapter. Thank you with all my heart and soul Rae for seeing me and empowering me to be that QUEEN!

Rebecca Brice
Raechelle has a wealth of knowledge when it comes to financial freedom and entrepreneurial business coaching. I love working with her because she keeps it real. She isnt all theory, shes a big player herself. She lives it herself. And it's fun watching her live her best life on her socials. It's inspiring. I had a major breakthrough in our consultation with her before I even started working with her. She is amazing, incredible, and opened me up to so much potential by simple expansive conversations. I am currently in her program called Her Money Club Mastermind Journey to 100K and its been a blast so far. I highly recommend it to those looking for a massive transformation. She helped me shift out of Imposter syndrome and finally align with my deep desires (my lifes purpose) and I am feeling so fulfilled and grateful. Her perceptiveness, intelligence and experience are a powerful combination. If youre looking to shift out of your limiting beliefs and instead to expand yourself to new abundance possibilities, I highly recommend Raechelle.

Masooma
Raechelle makes understanding money so simple. She has helped me to create an amazing evolving plan for my financial journey. As I continue to work with her she is helping me realize the many ways I can get paid to do the things I love, create passive streams of income & live the life I have dreamed of worry free. She asks the hard hitting questions to get to the root my money mindset & tweak it in my favor. She has such a true passion for supporting women in their goals. Every conversation I have with her makes me feel more empowered. I have gained such great insight about how my emotions effect my thoughts surrounding money. Best of all as I continue to grow she is helping me learn how to make my money make money for me & how I can add value to others lives. The community she has created of like minded women is priceless. As we work together I am encouraged to know that the possibilities are endless.

Tara
Before I started working with Raechelle, I was experiencing a lot of frustration with my business. I was trying desperately to grow and was having zero success. I woke up most mornings searching for an answer to my problem, which left me feeling even more desperate and paralyzed with fear and doubt. I really needed support. Raechelle was essential to my transformation. Our sessions were self-lead, meaning I was able to set the goals I wanted and she gave me the tools and strategies to see them through. She artfully used concrete strategies to help me uplevel and was also willing to go deep into my emotional stories in order to release the limitations I placed on myself. Her radical honesty was delivered with the upmost respect and kindness to help snap me out of what was holding me back from becoming the person I knew I was meant to be. Ive taken huge strides in my business since our coaching relationship started. In my first year of business I made a few thousand dollars. So far this year, I have made over $25k in my businessand Im still climbing. Ive received unwavering support from her through ever high and low of my financial/life journey. She has been there for every celebration and disappointment. During a particularly difficult time (the launch of my new service) she held me to a standard I was unable to hold myself. I am wildly grateful to her strong belief and passion for my own personal success. It was because of her commitment to my success that I was able to see my vision through. I now wake up feeling excited and eager for my day. Ive built the resiliency needed to take on whatever comes my way. She has been essential to my personal growth journey. Investing in yourself with Raechelles guidance is the best thing you can do for your personal and financial growth.

Samantha
Wow! I went in with little expectations in regards to NLP and I was blown away. It opened my eyes to the language I was using in regards to myself and I have changed my life dramatically 8 months ago. It was the first step I needed to take to fully believe I could launch my own business. She creates space for you to show up exactly as you are, any given day. I continue to look forward to more coaching with Raechelle.

Dana W