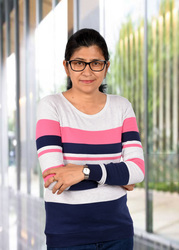 Rajwinder Kaur Saini

Dubai, Dubai
Life Coach, Family Coach, Performance Coach
Engineer, NLP Practitioner, Mental Well being Practitioner, Meditator
My ideal clients are professionals and working moms who wants to set clear professional goals, achieve a better work life balance and have a fulfilling life. You are not alone in this journey!
About Me
I believe that everyone deserves the life his soul intends with pure intention.
By taking charge of the way I think, I take charge of my life which then leads to results I desire for myself.
Hi, I am a certified NLP practitioner and life coach, helping my clients to take control of their lives, make decisions and take actions to live the life they desire. I am also certified as Mental Health first aider and trained for OHSAS foundation for psychological health and safety. I am working as Engineer and carry 17 years of experience of professional career in the corporate world.
My vision is to empower my clients to unleash their true potential and accomplish the life they desire.
I am available only outside my working hours ( mainly weekends).
With care and gratitude,
Reviews
I feel blessed to have such a wonderful, calm, and composed coach/mentor. She is a brilliant communicator and listen to others patiently, before sharing any of her thoughts. Her guidance is helping me to have more positive thoughts. As a coach, Rajwinder is very much focused and helped me on how to achive happy and health living. Thank you Rajwinder, keep smiling and help others to smile .

Asheesh khatri