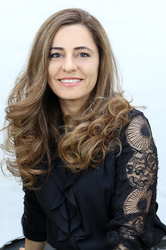 Randa El Zein

Abu Dhabi, Abu Dhabi
Life Coach, Family Coach, Relationship Coach
Psychologist, Strategic interventionist, Certified Passion Test facilitator
As a certified life coach & psychologist with 10+ years of experience, I help young adults who are struggling to find their passion & new parents who want to raise emotionally intelligent kids.
About Me
I believe we need more happy people because happy people change the world. I'm here to build a love generation of happy people who are powered by passion.
I believe happy people are those who bring their ALL to the game of life and utilize all their God-given unique set of gifts, talents, personality, and passion. That's the essence of Being You.
I also believe that you have the power to step up and change your life and change the world around you along the way. You have the power to choose to get out of your comfort zone and do things differently- more passionately – more you.
I walked on burning coal in Florida, threw myself off a plane, zip-lined the jungles of Belize, jumped off a 60-foot high pole in Fiji, walked on an active volcano in Greece, swam with nurse sharks, lived on 3 continents, gone to hell and back through a short-lived marriage, survived a 10-day silent meditation retreat, also survived the Desert Warrior Challenge- a 10K run With obstacles- and my favorite of all, I started rock climbing seriously at 42. I love the thrill of a challenge and to actually do something I thought was impossible. I assure you, I will have you go through the same through my private coaching sessions.
It doesn't matter that I'm the only certified Passion Test facilitator in UAE or that I'm a certified kids coach or that I have a master's degree in psychology or that I'm a certified Yoga instructor or that I've gone through the most rigorous life coaching certification programs in the world and have well over 1500 hrs of coaching under my belt or that I'm a certified Strategic Interventionist and have many letters after my name.
It only matters that I absolutely kick-ass (just like yours) into getting your shit out of the way. So that you have more clarity and space to know what your passions truly are and then to have a game plan of how to bring more of that into your life and the world.
Because we need more happy people in the world…did I mention this already?
Reviews
4 reviews (5.0)
Great experience with a lot of new things to learn which improved my life and the way of thinking. The only thing missing is to practice face to face with others which i find difficult to do in real life

Abdulla Alhashmi
I will never forget my experience with Randa! Let me tell you that she is awesome! I think fate brought her to me at the right time. For me the best part about Randa as a coach was that she didn't try to fix me instead she gave me the resources to tap into my own strength. For the first time in my life I was able to look at myself in the mirror and I didn't hate myself! Today I have a deep sense of self worth and Randa was the catalyst for that change. She is powered by passion and I highly recommend her!

Jinzy
My experience with Randa was a very positive one , she helped me in identifying the strong aspects of myself and also my passion in life. I still remember her guidance in life tough situations. I am very lucky that I have met her and got coaching sessions with her.

Rana A.
Randa is great. She knows how to listen and find the perfects words to describe your feelings and situations. Her pieces of advice stay with you and help you solve challenging moments of your life. She give people the energy that sometimes can be missing and the way to move forward with confidence and strength! We all need some help at some point in our daily busy life and Randa definitely provide this beneficial help!

Aurelie