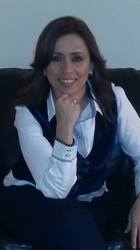 Rania Hammoud

Sharjah, Sharjah
Life Coach, Business Coach, Relationship Coach
I will explore with you the source of your unhappiness,frustration or fear for you to get a clearer vision,in order to reach higher goals and maximize your potential. I speak Arabic, English & French.
About Me
Do you feel that you have achieved many things in life, but you get to a place where you are unhappy or frustrated or exhausted? Do you want to change your career but you are telling yourself "what if it didn't work?" You have a great job but your boss or colleagues are taking advantage of you? Are you in a relationship where you feel that your spouse doesn't understand you? that you are giving a lot in return of nothing? Do you feel that your life is divided between your work and your family but you don't have enough time for yourself?
It can be different. By understanding the root cause of your challenges, understanding your limiting beliefs that are stopping you from growing and reaching high. Know what you want and don't want and stop serving what is making you unhappy and unfulfilled.
We start by looking at what really matters to you, what do you need to change in your current life and what do you want to create anew, to get you the life that you want to live and reach your goals.
My clients always come out with this experience understanding better what they want and having the tools to make it happen. They develop skills to better managing their emotions, communicating what they want, saying no to what they don't want.
My background includes 20+ years of working in the corporate Security and IT industry with an MSc in computer sciences. This multidisciplinary path facilitates relating with my clients and makes my approach unique and successful.
Being able to learn from the best during my coaching studies and earning my ACC Certificate from International Coach Federation gave me confidence to start my practice. Now, after working with more than 80 satisfied clients and 400+ hours invested into coaching, there is no doubt I've made the best decision!
I can coach you in Arabic, English or French.
Discover what I can do for you during a free 15-min chemistry call meeting. There is nothing to lose.
Reviews
Rania doesn't have any reviews yet.