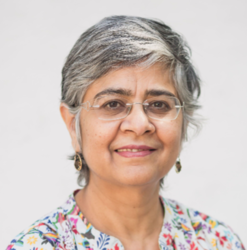 Rashmi Datt

Gurgaon, Haryana
Executive Coach, Performance Coach, Team Coach
Professional Coach, Certified Practitioner Psychodrama-Moreno Institute Germany, 360 Assessment, MBTI certified
Do you feel stuck because of 3 P's: People, Priorities and Powerlessness? I coach business owners and professionals to feel empowered and resourceful who can then make an impact in their world.
Details

Gurgaon, Haryana
Hourly Rate: $150 to $275 US Dollars
Gender: Female
About Me
You are smart with ideas, technically competent, your mind works fast. But work-wise are you spinning on wheels?
You wonder : Why am I feeling stuck? Why am I not making progress?
I subscribe to what John Kotter (Harvard Business School) says: "Difficult to manage relationships sabotage more business than anything else - it is not a question of strategy that gets us into trouble; it is a question of emotions."

In my early career with Pfizer many years ago, I struggled with - difficult relationships, inability to manage conflicts, fight or flight behaviour, and in the process missing the big picture perspective.
I wondered :What should I be doing different? How can I make real and deep changes? In my search I learnt from the best teachers, (and in the process wrote 2 books!). I learnt psychodrama as a powerful modality to rewrite old scripts to create new neural pathways and responses to difficult situations; and a deep study of Vedantic philosophy helps in taking a witness position (observer) to move past from being "trapped" or being "frozen" in a habitual pattern of hurt-disappointment-struggle cycle.
When you hire me, you get:
• Support to gain insights in blind spots and self-sabotaging patterns of thoughts, emotions and behaviour
• Accountability to move forward beyond your zone of comfort-after clarifying priorities, identifying what you really want
• Overcoming obstacles in areas such as assertiveness and setting boundaries, conflict management, time management, public speaking, confidence, or work-life balance.
My clients have experienced astounding shifts, and a realization of their talents and gifts that had been hidden away due to fear. The outcome is clarity, peace of mind and improvement of bottom line in not just business, but also socially and emotionally.
I coach both in-person and video call.
You have huge untapped potential waiting to be freed. Request a free consultation, now!
Reviews
8 reviews (4.88)
I had a really great experience during my session with Rashmi as she made me visualise my goals and dreams very clearly. She also took me to my past which I thought I had healed but it wasn't true. My inner child was still stuck with the emotional traumas deep down and l could realise where I am stuck. Thankyou Rashmi for being so empathetic and patient with me and making things clear to me

Geet
In the coaching sessions with Rashmi, I felt very held and understood. I have been a perfectionist which was leading to stress and guilt. Her psychodrama techniques with role play enabled me to get clarity about its root cause, and the answers came from myself. I can say I realized my own resourcefulness and wisdom, which has still stayed with me. My vision has expanded to see situations from all angles, which has moved me to the next level of strengthening me emotionally, physically, mentally and professionally.

Shuchika Vinayak
Rashmi helped me to live up my dream. Helped to search for it and find it. And to acknowledge my dream. She used Psychodrama to make me feel the pain in my body parts that came with the pain in my heart because im not reaching it. After the sessions i felt my dream was doable and achievable. And started working on my dream of working with students to guide them to guide their full potential. Now I am an Mbti Certified Practitioner. One of the firsts in my country. And I'm continuing to work on my dream with hope and passion.

Asmaa Boutaiban an Entrepreneur
When I met Rashmi,I was in not so great phase in my life. At work, I was facing issues in figuring out opportunities & being assertive to grab them. I was playing safe in my comfort zone and was clueless about how to make a breakthrough in my career.On the personal front ,I was nursing a bad back injury and that added to the mental agony. I wanted to be sharp and focused in my approach to life and make an impact in my professional career. The sessions with Rashmi were engrossing,enriching and empowering.I found her to be very empathetic and enthusiastic in her approach. Her unique style of coaching through role-plays and psychodramas helped me identify my key problems and view it through a neutral third person perspective. After multiple such scenarios ,I had developed the vision to see the bigger picture and an approach to solve them .I loved the sessions because she encouraged me to find the answers to my questions by myself instead of suggesting any generic solution. My biggest takeaways were that I was able to think clearly in the noise and developed an attitude to see the problems as '' challenges '' and myself as a ''challenger '' instead of a victim. My health improved too ! Now I am in a happy and fulfilling phase of my life,pursuing my higher education in one of the premier institutes of India,like I always wanted .I can confidently say Rashmi instilled in me lot of positivity and confidence to steer through my dilemmas and achieve my goals !

Mridu Manisha, Student,Kolkata
When I came to Rashmi for coaching, I was experiencing low self-confidence. Having grown up in a Hindi-medium school, I found it difficult to express myself before my seniors, and in front of a large audience. It was as though my throat would choke up. I was loosing opportunities to show up. In my sessions with Rashmi, we ended up going beyond my presenting agenda of communication, we ended up working on the inner soul! She uses a unique method of Psychodrama, and I saw parts of myself which were not easy to digest, but Rashmi was always present, and acted like a bridge between me and my inner capabilities. Now I see my struggles, confusions and depression with compassion, and feel alive, confident and have access to my inner wisdom to solve issues which come my way. I am able to express myself with confidence and ease.

Organization- Hero Motocorp LTD., Designation- Engineer, Name- Sahina
Before I went to Rashmi , I was going through lot of stress and was struggling with anxiety , uncontrollable worry and distractedness both on personal and professional fronts. After working with her, I became aware of the different parts or personalities of myself . I named them Rebellious, Self-Critic, Victim and Courageous. These different parts interacted like inner team members, where each part plays a critical role and needs to be heard. I realized my inner muddle , was able to sort it out, and felt a great relief when they came into alignment, helping me act authentically. I realized no team member is good or bad; it becomes a challenge to handle when one part starts to dominate in a situation. One of the areas had difficulty with was handling stressful conversations like the annual performance appraisal discussion with my boss; but with the coaching, I now handle discussions with ease and confidence and look forward for positive outcomes. I enjoy her coaching style with lot of reflections, brainstorming, looking at situation from different perspective like an observer and finally finding the solution on your own.

Priyanka Gupta, Deputy Manager- Talent Acquisition ,Hero Motocorp Ltd, Corporate office, Delhi
I had a troublesome relationship with my parents for several years, with its roots in childhood and teenage. The kind of pain and anger it was causing - it strongly crippled my emotional well being and my decision making. My sessions with Rashmi have enabled me, in very little time, untie several knots in my relationships with parents and other close ones. Through her very effective psychodrama techniques, she has led me to identify and see through my own emotional and behavioural patterns which stunted my emotional and rational growth. She has helped me rediscover my strengths, motivation and goals, and has brought me closer to accepting myself as the person I am. After her sessions, I have been significantly aware of myself and have gathered courage to make better and stronger choices in life.

Snehil Basoya
I came to Rashmi after having experienced some failures in my roles as a professional and a mother. I became aware of my self-sabotaging patterns of behaviour. This has given me more choices and flexibility in the way I respond to old triggers like - my child's performance in school, criticism directed at me, speaking in front of authority figures. I feel calm and 'in - charge' of my emotions.

Monika Singh
The Smart Way To Find A Coach

1 Describe Your Goals

2 Get Matched

3 Free Consultations
Find My Ideal Coach Now