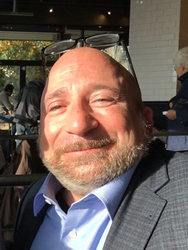 Ray LeCara Jr

Seattle, Washington
Career Coach, Life Coach, Business Coach
Twenty-six year educator and trainer
Be, do, have, and give more by being your most authentic self. Live authentically and you will live, love, and lead profoundly, transforming your life, your relationships, your career, your business.
About Me
My name is Ray LeCara Jr. I am an advisor, coach, trainer, teacher, speaker, investor, associate producer, and author. I have worked in the coaching/advising space for nearly thirty years.
As the founder and director of Authentic Embassy, I work with personal/professional branding and publishing. More importantly, within the personal and professional development space, I help people tap into their unrealized or unfulfilled potential by first helping them realize who they are at their core. Simon Sinek likes to ask why. I ask who: Who are you, really?
The profound impact from living and leading authentically, out loud, is life changing, healing, and transformational. Suddenly everything has meaning. Purpose is then realized. And from there, a sense of gratitude and love emerges because the connection sought after for so long becomes a reality.
In a world of increasing technological connectiveness, it is astounding how so many are feeling more and more isolated. Know that you are not alone. Know that your time is now. It IS POSSIBLE to feel empowered, more confident, and more connected. You already possess that ability, that power. You just need to tap into the most authentic version of you.
Reviews
3 reviews (5.0)
My experience with Mr. Ray LeCara Jr: has been absolutely phenomenal. He's extremely professional. and courteous.. i find him to be very detailed as well. i thoroughly enjoyed my experience.and i highly Recommend LeCara Jr too anyone as he is one of the very very best:in his field. top notch!!!

Robert A. Pile
I had the opportunity to work with Ray over the last 8 months and have found him to bring a unique, intentional and relentless point of view. To be fair, when I say relentless, I mean it in the most encouraging way. I am a hard headed and driven person. I've started and sold companies. I've been in leadership roles for many years. Yet, when I met Ray, I encountered a man singularly focused on the "things that are me." Ray found a way to coax out the hidden secrets I kept inside for the last 52 years... Examples being my fear of loneliness, my struggles with parents, my struggles as a father and husband, my desires to earn a bigger living and the feelings of failure that surrounded it. Ray helped me see through the challenge of never being enough to being more than enough. For that alone, Ray is worth every second of your investment. I can't wait to see where we go next.

Robert Jones
Anonymous
The Smart Way To Find A Coach

1 Describe Your Goals

2 Get Matched

3 Free Consultations
Find My Ideal Coach Now