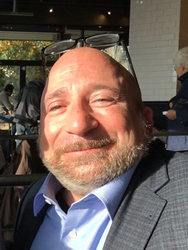 Ray LeCara Jr

Seattle, Washington
Life Coach, Relationship Coach, Spirituality Coach
BA, MA, Twenty-eight year educator, corporate trainer, and coach
I coach my clients on how to access their most authentic selves, finding clarity and purpose to better live, love, and lead.
About Me
Simon Sinek, author and inspirational speaker, likes to ask: "Why?". I ask: "Who. Who are you, really?"
Feeling there's more you could—should—be doing? Are you wanting to be, have, give, and do more? Are you not getting that return on investment when it comes to the time and effort you put into personal and professional relationships? Maybe you are successful, by society's standards, but still find yourself unhappy and keep wondering why, feeling guilty about it in the process.
Hi, my name is Ray LeCara Jr. The key to a fulfilling life, at any age, is knowing who you are at your core. For far too long many of us have felt pressured to be something we're not, to maybe speak and act in ways that don't reflect our true selves. Perhaps we are surrounded by people who see us as we were, not as we are. And in trying to be all things to all people we have, in effect, lost who we are. We've lost our authenticity.
No matter your situation, the profound impact from living, loving, and leading authentically, out loud, is life changing, healing, and transformational. Living from a place of authenticity instills confidence and provides clarity. It is, for lack of a better phrase, a game changer.
Are public appearances difficult? Finding home, school, or work situations challenging? Knowing who you are, at your core, means acknowledging what you bring to relationships and what you expect in return. There's no reason for you to settle, to spend your life trying to live up to someone else's expectations. Embracing your core values will help you determine the kinds of relationships you put into place, personal and professional.
Let's tap into the most authentic version of you. More than ever, your time is now!
Reviews
3 reviews (5.0)
My experience with Mr. Ray LeCara Jr: has been absolutely phenomenal. He's extremely professional. and courteous.. i find him to be very detailed as well. i thoroughly enjoyed my experience.and i highly Recommend LeCara Jr too anyone as he is one of the very very best:in his field. top notch!!!

Robert A. Pile
I had the opportunity to work with Ray over the last 8 months and have found him to bring a unique, intentional and relentless point of view. To be fair, when I say relentless, I mean it in the most encouraging way. I am a hard headed and driven person. I've started and sold companies. I've been in leadership roles for many years. Yet, when I met Ray, I encountered a man singularly focused on the "things that are me." Ray found a way to coax out the hidden secrets I kept inside for the last 52 years... Examples being my fear of loneliness, my struggles with parents, my struggles as a father and husband, my desires to earn a bigger living and the feelings of failure that surrounded it. Ray helped me see through the challenge of never being enough to being more than enough. For that alone, Ray is worth every second of your investment. I can't wait to see where we go next.

Robert Jones
Anonymous