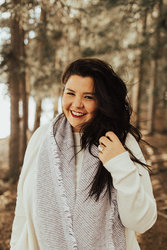 Rebecca Troxel

Pickering, Ontario
Life Coach, Relationship Coach, Spirituality Coach
In need of a Comeback? Feel trapped in an exhausting cycle of self-hate? I guide women through deep healing so they can steal back their confidence and independence and step into their power.
About Me
Do you want to finally feel happy, free and confident in your own skin?
Are you living in constant fear of being judged?
You know life was meant for more meaningful experiences than looking at your own reflection with disdain. You feel it in your bones, you just have no freaking clue how to block out all the bullshit that seems to be standing in your way so you can embrace your power and stand confidently in the light of your own awesomeness.
You witness yourself accepting friendships, romantic relationships and even jobs that don't totally satisfy you because you can't seem to conjure up the confidence to go after what your soul is yearning for.
Your negative self-talk prevents you from enjoying the present moment.
BUT enough is enough.
You're finally ready to give yourself the chance you've been so desperately craving.
Here's your chance!
I've had an epic Comeback of my own and I'd be honoured to help facilitate yours!
If you....

Have a true desire for change.
Are committed to challenging your current limiting beliefs.
AND
You need a little (or a lot) of love to help you build your confidence but also a kick in the pants to get moving on your hopes and dreams for the future.
Then book a free consultation today so we can get started on creating your very own Comeback.
I center my coaching on deep listening and compassion while helping my clients make tangible strides toward the life of their dreams.
I can't wait to meet you!
Email me to book a free 30-minute consultation.
About me:
I broke free from the corporate world, leaving the auto industry after 5 years at the one of the largest auto groups in Canada to pursue my passion for helping women fall in love with themselves. I'm no stranger to making a Comeback, in my personal life I've survived and thrived through many traumas. In 2018 I completed my Life Coach training studying under Dr. Martha Beck and I've since helped women from all over the globe
Reviews
2 reviews (5.0)
Rebeccas warmth and relaxed manner put you at ease immediately, but you can be assured she is paying close attention to every detail. She has an outstanding emotional intelligence and is extremely insightful. She has a ton of life experience and can steer you towards the heart of an issue in a way which is gentle and masterful at the same time. Rebecca has helped me gain clarity in many areas of my life and I have no hesitation in wholeheartedly recommending her as a coach.

Anne Jacques
Rebecca has a deeply empathic presence and keen intuition. Her deep listening and genuine caring creates a space in which I feel seen and safe enough to allow, explore and question the stickier thoughts and beliefs that keep me from creating the life I envision. She reminded me that I had the power to choose my perspective and shape the quality of my experience all along. Rebecca is a naturally gifted coach who helps me get out of my own way and cheers me on as I learn to create a life beyond my wildest dreams. I'm beyond grateful to have her supporting me through one of the most exciting times of my life. Thank you dearly, Rebecca!!

Rae T.