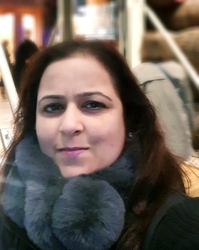 Life Coach, Relationship Coach, Spirituality Coach
MA, Executive Life Coach, Mindfulness Expert, Yoga Therapist 500-ERYT, Reiki Healer
Are you stressed out without goal or aim, cant find the way ahead? I can help you overcome all of it & create successful & balanced professional personal or spiritual life to maximize your potential.
About Me
Do you feel stuck and aimless in your personal or professional life?
Do you feel overstressed and depressed at times and dont have the answer to your worries?
Do you require balance & harmony in what you do?
You are at the right place:-
I am a life Coach with specialisation in Stress Management at workplace, Personal life, & relationships, which when dealt with can bring organizational connection & communicational effectiveness.
I am also a qualified Nlp practitioner, certified Mindfulness, Meditation and Yoga teacher & Reiki healer. I guide my clients to create Mind & Body Balance, which is key to all experiences and success in life.
I facilitate them using Nlp, Cbt and Various Mindfulness techniques for Confidence, Bridging Communication gaps, Anger management, Anxiety, Decision making, Risk taking, Emotional well being, & Muscle Relaxation. Which creates Compassion & Gratitude towards themselves and to the people around them.
My aim is to build connections with balance and understanding, to enable organizations, individuals, and groups to prosper and grow.
Reviews
Reenu doesn't have any reviews yet.