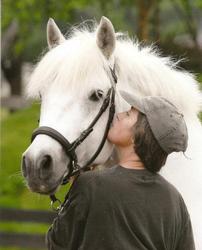 Renee Vaughn

Ancram, New York
Performance Coach, Relationship Coach, Health and Fitness Coach
CPCP
My ideal client is anyone who can say "yes" to a question as simple as "would you like something sweet to eat?" or who is grateful for at least one thing in their life.
Details

Ancram, New York 12502
Gender: Female
About Me
I am a 45 yr old farmer, philosopher, equestrian, jock, intellectual, artist and writer. I've milked cows, studied psychology, taught college courses online and been knocked down by life in all sorts of wonderful ways.
I am very willing to work within your budget.
I am a professionally trained life coach (International Coach Academy)who specializes in working with the hard realities of life through understanding, humor, compassion and sometimes a push or a shove.
I have worked with equestrians, athletes, artists, farmers, secretaries, professors and CEOs. I can help you clean your room, deepen your spiritual connection, start a business or give you permission to take a nap. My goal is to help you own your life fully.
All is good and getting better every day.
GO PLAY!
Reviews
5 reviews (5.0)
I began working with Renee during a point in my life in which everything before me was in question. I lost my job, was looking at the prospect of losing my home and was experiencing uncertainty about some of the basic fundamentals in life. During the free consultation, Renee and I talked about some of these issues in a way that highlighted my needs but also included humor. I knew after our conversation that Renee was going to be the one and that thought paid off. During the sessions Renee helped in keeping my focus on the task at hand. She was always willing to ask questions and would listen intently to what I had to say. She often remembered things that I had forgotten and was extremely insightful. Renee has a very unique ability to zero in on the underlying issues and tap into those areas thoughtfully and with great care. Renee is sincere, open and honest and beyond that she truly cares for her clients. I knew I had the best coach but much more than that I found someone standing in my corner that was willing to take up a shield and fight along with me. Taking the step to contact Renee has been one of the best decisions I ever made and I am truly thankful to her for the impact she has had on my life. Whether you are experiencing some of the more horrid details in life or simply need focus and direction I would encourage you to take the simple step in contacting Renee for the free consultation. You will find on the other end a talented, intelligent, fun and caring individual who will help you move in the direction you need. It is my honor to recommend Renee and I do so with great admiration.

Stephanie Servier, Legal Field
The most powerful thing personally for me in the sessions was Renee's ability to zero in on what I said to her and then feed it back to me in a fun way. Her mental creativity was a good match for my mental seriousness of wanting to break down thoughts to the fewest words possible. It was a fun challenge to try and keep up with her.

Jill Koch, Real Estate
Renee has coached me to see a new lighter awareness in people. She has helped me to see the world as more connected and helped me see how energy flows from each thing and being to the next. With this new found awareness I have touched people in a different way than in the past. I am more spiritually connected to the people I coach thanI used to be. She has many wonderful ideas and thoughts to help her clients focus on themselves and their goals. She is easy to communicate with because she creates an environment that is conducive for growth and positive energy. Her background of being so in touch with animals truly was insightful and helpful as she is able to connect with people on a different level than just the spoken word.

Patricia Cavanaugh, H.R. Credit Bureau
Renee was very engaged in our conversations, and regularly made connections between topics we previously discussed and current issues. Her insights into my actions (or lack thereof) and my capabilities inspired me to strive harder for what I envisioned. She would remember what I had forgotten, and without hesitation verbalize that. At times, she freely asked questions to understand me better. Renee was very sensitive to the work and has much intuition about people and universal issues that people have. She has an uncanny ability to zero in on difficult topics with poise and lightness; she digs gently. My sense of Renee is that she understands people because she has lived much of what they have lived; her struggles inform her work to everyone's advantage.

Julie Harrison, professor and mother
This worked very well for me. I called you when I was absolutely buried and frustrated. You helped me sort through my priorities and stay on track.

Fredericka Foster, artist
The Smart Way To Find A Coach

1 Describe Your Goals

2 Get Matched

3 Free Consultations
Find My Ideal Coach Now