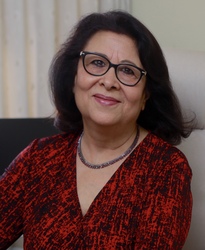 Rita Chadha

Pune, Maharashtra
Executive Coach, Business Coach, Life Coach
M. Sc., Coaching to Excellence, Quantum Dynamics of Humans, NVC, Mindfulness Techniques, Curriculum for Extraordinary Living, Personal Transformation
I work with BUSINESS OWNERS, C-SUITE & SENIOR EXECUTIVES feeling overwhelmed by multiple challenges encountered. I guide them to be empowered for accelerated growth & fulfilment in all areas of life
About Me
When you have BIG DREAMS and know YOU ARE CAPABLE OF ACHIEVING MUCH MORE THAN YOU CURRENTLY DO, the challenges encountered can often feel daunting.
These challenges are integral parts in the journey of life, signalling its time for that big leap forward
PURPOSE OF MY COACHING: Enabling you to go beyond your inner critic, limiting beliefs / narratives, dilemmas or some perceived inabilities
AIM: To Inspire & Empower you for accelerated exponential growth & fulfilment in all areas of life
My expertise lies in quickly identifying the source of your core issues & recurring life patterns. You are then guided to the scientific yet simple to practice modalities that will enable you to effectively move to the next level in a short span of time. Action plan is customized for each client. Cognitive behavioral techniques, Emotional competence & Mindfulness will also be utilized in the sessions.
You will learn to challenge your limited notion about yourself and access opportunities & possibilities in areas where you did not even think any existed.
Playing the role of your Confidant, Sounding board & devil's advocate, I facilitate your journey forward.
The sessions will cover:
• Conscious Leadership
• Enhanced decision making
• Self-empowerment
• Communication & Collaboration
• Maximizing the potential you already possess
• Transforming perceived weaknesses into strengths
• Dealing with failure as well as success
• Increased self-belief & trust, with greater resilience
• Time management
• Change management
Different types of Coaching & Mentoring packages are offered.
My clients have been reporting INCREDIBLE TURNAROUND IN THEIR PROFESSIONAL, PERSONAL, EMOTIONAL, RELATIONAL & FINANCIAL STATUS.
DYNAMIC, EMPOWERING & TRANSFORMATIONAL is how they experience my Coaching which is provided GLOBALLY through my company FIFTH ELEMENT to clients in US, UK, SINGAPORE, INDIA & MIDDLE-EAST
LET'S TALK
Schedule a 30-45 min introductory call now to evaluate compatibility
Reviews
14 reviews (5.0)
TLDR version: She's an amazing coach! You don't have to think twice. Long version: I found more value from Rita's coaching vs what I expected out it. She not only helped me dig deeper into the challenges (professional) that I had reached out for , but also other aspects of my life (personal), which was amazing. I found Rita to be intutive, honest and invested in my growth. Her style of coaching has a good balance of guidance, introspection and confirmation - which was important for me. In her sessions you can express your deepest thoughts, fears and other emotions and know that you won't be judged, but heard. In each session there were some take away activities which were great! I am so glad I choose Rita as my coach!

Bhavana N
This has been life transforming at the most fundamental level. It has helped me question some of my belief systems and my deep rooted habits, and I feel empowered to create the life that I want. I was expecting transformation by being told what to do. I instead achieved a mind-shift in me from being 'Someone who has to be told what to do' – to 'Being a leader'. There's a lot more self-belief and confidence in me. I've got more connected to my own inner-guidance system and also learning to rely on it to navigate through life. The experience with the coach was phenomenal. Lots of insights, enhanced clarity & confidence. I am much more intuitive and trusting of my life than ever before. I am voicing all my emotions in a much better way. And whenever I slip I immediately realise how I could have done it differently. Now when a challenge comes up I do not feel overpowered by self-doubt. I am able to see the risk in the situation and then take a decision accordingly. It's a new found balance that I am experiencing. Also I am going all out and having difficult conversations with people when required. I am living and speaking my truth more and more. As new issues come up, I have the tools now to navigate through all of those and more. To confidently decide what to do and take action towards it. I am presently going through one of the most difficult times of my life. Yet surprisingly people are seeing me as more and more joyful in the situation, and my son is growing up to be a more confident child and expresses himself more freely. My long pending medical claim of 8 months ago just came through, in spite of the fact that there was little hope of it coming. My trust in life process played a major role in making this happen.

Archana Dhingra, Mastercard, India
The benefits of doing Coaching with you have been truly beyond my expectation. To be honest I was sceptical that this could work. My husband having become an alcoholic was taking a huge toll on me and my daughter as well. Coaching with you started to reinstate my belief in myself. Instead of running away from the situation, I started to feel courageous and worthy to address it. The strong feelings of hate and bitterness that I had developed towards him began to gradually dissolve. I also learnt to compassionately look at his condition as any other illness someone may go through. I am in acknowledgment of your patient and empathetic, yet firm manner of coaching.

Priya, Entrepreneur, Bangalore, India
I used to feel choked as if someone had blocked my way from all sides and I was not able to come out. I used to wonder why this was happening to me. But after doing Life Coaching with you I feel more confident. The doors have started to open and energy is flowing in. The experience has been wonderful. It has helped me to know myself. It has given me a direction. It has been a kind of transforming experience. I have seen how much energy and research work you put into this, as every human is different, and you customize it for each person.

R. K., Financial Consultant, Greater Noida, India.
I did Life Coaching with you at a time when me and my husband needed it the most. Many issues had to be addressed simultaneously. Each session was a learning experience. The assignments and the coaching brought in a new perspective to our lives. I have now learnt to cope up with every situation boldly and with more confidence. These sessions have made a world of difference to us. I see a new road with more lights and brightness after my sessions with you.

Jyothi, Teacher, Kuwait
There is a time in life when you think everything around you just seems to be collapsing and nothing seems to be getting better.. every effort you put just seems to be going in vain and there is no sense of improvement in your life... a sense of losing control....I went thru a phase where family-wise, financially and professionally everything seemed to be going downhill and I felt I just could not find a solution. As I started Coaching with you, the feeling that someone is able to understand what you are going thru and empathise with you and yet not judge you, that helped me talk with ease. Each session got me to delve in further into who I am and I began to figure a lot of reasons as to why I have been reacting to situations in a particular fashion. Soon after my husband also joined in. This was a big milestone for us. The sessions helped me take charge of my life, and start looking at all my concerns in a new perspective. My relationship with my husband found a new dimension of understanding and togetherness.

Dhanya, Interior Designer, Bangalore, India
It has been the best investment I made for myself till date. I have got a lot of breakthroughs in specific areas of money, acceptance as well as integrity. Other than that, it also helped me accept parts of me I wasn't aware of with love and minus judgement. I have been felling much lighter, like a huge weight that got lifted from my shoulder and I do feel more optimistic and positive. Your approach was very welcoming and accepting. You provided a platform of no judgements or guilt which encouraged me to share openly. Through your appropriate probing, it became easy for me to identify my core issues that were lying deep inside and eventually you guided me how to address them. You also made me aware of some aspects of myself that I was completely unaware of, for instance how I had zero tolerance for being a 'last minute' person Since the time I began my Life Coaching, I can see how my finances have improved, opportunities are coming my way and my acceptance of myself in totality has improved. I am able to accept myself with all my strengths and flaws.

Saira, Fashion Industry, NYC
The kind of breakthroughs your Coaching has brought about in my life has been nothing short of a miracle. Before my sessions with you, I was on such a high that even arrogance and ego were put to shame. I used to react at the drop of a hat. It was my way or the highway and I could justify that. After going through Coaching with you I have calmed down. Now I get what I want or even more, minus the reaction, minus the ego, plus a zillion times more satisfaction. I know exactly how to achieve what I want patiently in a humble way. My success growth thereon has been phenomenal. I share all this as being one of you who wanted help, transformation, and after having experienced the results, I'll say this "There's hope for each & everyone who wants to experience this"

KS, CEO, S. Cap Consultancy, New York
I had been going through severe depression, weight gain and a pretty shitty feeling that I had been pushed underground and there was no way back up. I thought I knew why this was happening, but sometimes just knowing the answer isn't enough. So I approached you for Life coaching because somewhere I was aware that this was not just something I could get over by distracting myself or 'being positive', etc. I knew the root cause had to be dealt with. My first session itself was quite revealing to me about my life patterns and some root causes to me being who I am. I was listened to and guided patiently throughout. That dark cloud started lifting. I could understand myself better. I certainly saw changes in my life, and was able to face myself and the world again. There are many lessons that we may keep reading about in various books and forwarded messages, and we may understand them conceptually. But Coaching with you helped me identify the depths of these lessons.

Mehak, Audiologist & Speech Therapist, Dubai
Coaching with you has been a great experience for me, and I am very pleased to have worked with you. My expectations were to receive some input on what I needed to do to improve my life, and to hopefully receive some enlightenment and some inspiration to get motivated and moving. I received this and more. You really made me think, and at times I thought you were challenging me in the wrong areas, but later realized that you were on track the whole time. Your coaching style is unique and you are very intuitive. I have benefitted greatly from this Coaching. I think the biggest benefit has been in the way I treat myself. I am much kinder and gentler with myself now, and that is something that I have never been able to do earlier. I would highly recommend your Coaching to anyone. In fact I am planning to resuming the coaching sessions when I get back from a large project.

Bruce Hoffort, Project Head, Wisconsin, USA
When me and my husband started coaching with you, our life had come to a point where we had no listening for each other, and our differences had began affecting our children as well. Your coaching gave us a new perspective to our life and brought our family together with a stronger bonding and listening for each other. I was a person who would go out of my way to do things for others, to be in their good books, just to get appreciation. In the bargain, I forgot to live my life or respect myself. Today I have learnt to value and respect myself. I have also learnt to respect time and money which was not there till now. I was judgemental and authoritative, always wanting things my way. Today the new ME is more approachable and down to earth, more understanding, while listening to others. While our Coaching sessions were still on, I realised things had already started to move in our lives, surprisingly not just for us, but even bringing in new opportunities for our daughters as well. You put in a lot of effort to study us, our habits, our way of life, and approach to life, without being judgmental. You have worked with us closely, giving us the confidence and strength to believe in ourselves and helped us transform our relationship. You have actually given us a beautiful new life with new perspectives We owe a lot to Fifth Element which has completely transformed our life.

Sonia Sharma, Boutique owner, Greater Noida, India
I have had a life changing experience from the time I had my first session with you. It has made me aware of things I am doing unknowingly. Your sessions have helped me become stronger, less judgmental of people around me and accept every aspect of my personality. I have even started to acknowledge and accept my shadow parts. Earlier I was living a life of pretending that I was the perfect person, a victim. I am really glad that I made the decision to take these sessions with you.

Sona, Corporate Trainer, Singapore
Coaching with you has been a life-altering experience for me. You have guided me to genuinely look at the difficult moments in my life with a new perspective, wherein I learnt the deeper meaning behind it and how it shaped me and made me the person I am today. There were a number of things I found difficult to let go, but you had a way of bringing about the shift in such a creative and caring way that I never felt any pressure. Your techniques and analogies are brilliant and you have an amazing way of showing the light indirectly so that I was the one making the discovery. This not only fostered a feeling of independence in me, but also had a stronger impact and lasting effect that I don't forget outside of the sessions. I continue to use the tools you provided to apply in my life and deal with any challenging situations that come up. The amazing results of your Coaching are not only emotional for me but physical too. For 8 years I have suffered from a chronic disease that at times made it impossible for me to leave home. I have never known or understood the true connection of mind, body, and spirit until now, and I can attest to its power through the amazing turnaround I have experienced in my health. You are a gift to the world that I hope many more people can experience.

Nisha, Co-owner CoCo Sala, Washington DC
I expected it to be similar to weekly sessions with a psychiatrist where you talk, answer questions, be told how to go about doing things and use mental exercises to trick your mind into thinking positively. Here your Coaching gave me the platform to think for myself, it helped me choose a path wherein I myself wanted to take action to improve my life, & hold myself with pride, dignity & responsibility. You have been a fantastic guide who has triggered the thinker, introspection & retrospection streak in me. While the modules started as very specific titles, you later weaved every aspect of my life into them. From start to finish your coaching served as the best road map into my being. It has been a major eye opener in ways that I hadn't expected.

Aaliya, Engineer & Management Student, Mumbai, India