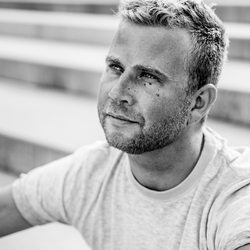 Rob Sparreboom

Arico, Canary Islands
Leadership Coach, Business Coach, Performance Coach
MBA, Executive Master in Finance & Control (EMFC), NLP coach, IINH nutrition, Human Being Management (HBM), Cold training (Wim hof method)
I work with emerging leaders and entrepreneurs to step up their game.
About Me
Want to get more out of life? Do you want to maximize your human potential?
Whether you are an ambitious business owner or you want to develop your leadership skills in any area of your life my coaching will help you to close the gap between where you are and where you want to be.
Personal Leadership starts with a clear vision. Next you should actively and continually focus on that vision. In order to be the person you want to be you need to transform your mindset. With this new imprint you will make better decisions in your life. Commitment to these better decisions will eventually turn into habits. And your habits define your success of leadership. Change your habits and change your life. It's that simple, however not always easy.
Leadership is getting to know yourself better over and over again. It implies having the courage to look at yourself. By experimenting with new behavior and integrating the feedback you will make progress step-by-step. Leadership is a focus on continuous improvement; to walk your talk.
My purpose in life is to share with others what I have learned about personal leadership combined with my business skills. This to accelerate the human potential. I am very committed to this cause. I have studied the subject rigorously and therefore gained a wide range of experience. This ranges from working as a successful banker for 8 years, setting up my own businesses afterwards to courses on: NLP, nutrition, breath work, habits, neuropsychology, (online) entrepreneurship and more…
I will fully commit myself to the realization of your potential. Book a free session to experience the power of coaching.
Reviews
11 reviews (1 verified) (5.0)
It was great to talk to Rob,very fun and very easy.

tudor
Rob pushed me to the best, especially when I was closest to giving up. Breaking down my limiting beliefs and motivating me to take the next step. Rob was there to pick me up. Invaluable lessons I still hold close to my heart today.

Kelly
Rob has a wide knowledge on various fields of life, so he can really offer lots of great tips. I am grateful for every word or advice! It all still stayed in my head and I do my best to integrate it into my life asap

Natasa
Rob is an amazing trainer & coach and gave the wake-up calls needed. Amazing kind and genuinely interested and at the same time very honest and realistic. His trainings were brilliant, very easy to follow and understand.

Elaine
Rob is the coach who really cares about you. He is able to put you in the right state that makes you make massive actions in your professional and personal life. Beside this he gives you great insights that helps you get the results you desire. I really value my experience with him and would recommend it to any one who is serious about changing habits and getting results.

Salah
I love Rob's down-to-earth approach, bringing balance with practicality and science to a spiritual and philosophical message. IQ and EQ in one hand… Highly recommended!

Scott, founder of Causeway Living, www.causewayliving.com
I got in touch with Rob through a common friend and I was taken by his life story and enthusiasm. He really thought along with my business idea and gave helpful insights and pointers. He has a keen sense of what is important in business AND in life. Highly recommended!

Stephan, business coaching
When I started my healthy lifestyle journey with Rob I was in a really bad stage in my life. I think Rob is amazing at what he does! There is no question about it. He seriously helped me a lot to change my bad eating habits and he was really patient and understanding with me. Getting started is usually the most important and the hardest part to go through but Rob helped me a lot to go through!!! I have changed my habits and think mindfully about food, which is very enjoyable in my life right now!

Joanna
I am so pleased with all the valuable insights, strategies and outside-the-box thinking. Rob is an excellent listener, and shows great attention to detail. I have found him a real pleasure to work with, and would not hesitate to recommend his valuable services to others.

Richard Burton - CEO Irish Institute for Nutrition & Health - www.iinh.net
Rob really helped me to order and prioritize all my ideas for setting up my own business. He helped me framing my service and I feel it's finally right! This had led to launching my website and getting started in doing what I love. That has been my greatest achievement of 2018 and we will continue to work on growing my business for 2019. Would definitely recommend working with Rob. 9/10!

Lieke de Bever - nutrition coach - www.liekedebever.com
Thanks to Rob I have made beautiful steps in the last half year. It has brought me from an almost burn out situation to starting my own business and feeling super energetic.

Eric Hoekstra - Renewable energy start-up