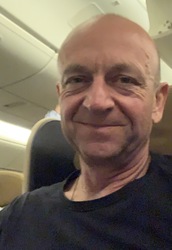 Robert Zechmeister

Abu Dhabi, Abu Dhabi
Life Coach, Executive Coach, Leadership Coach
Certified NLP Practitioner, Certified RTT Practitioner, Hypnotist
Coaching with us is a process that can bring you liberation from learned behavior and help you plot your way into a resourceful future. If you are ready to Step Up, we are ready to serve your purpose.
About Me
At Now Step Up! Coaching, we believe that in order to live our best and most resourceful lives we need to be aligned with all aspects of our humanity - our mind, our physical body, our emotions and our need for a spiritual connection. Human beings function best with as few fragments as possible, and our unique approach to coaching that deals with these "Four Pillars of Existence" reflects that.
Every belief we hold dear about ourselves and the world around us, every single attitude, like, dislike, all of it is learned behavior that resides in the recesses of our unconscious mind. These phenomena define the strategies we use to run our everyday lives - mostly in a not entirely satisfactory fashion.
At Now Step Up! Coaching we firmly believe that Understanding is Power - you can't change what you don't understand. We will assist you in assessing, understanding and changing limiting beliefs and thoughts, in defragmenting your entire being and help you set up a life that is more resourceful, more joyful and more liberated than you ever thought possible.
Are you ready to Step Up to the next version of You?
Reviews
4 reviews (5.0)
I just finished four sessions of Life coaching, including one RTT session. The overall experience really exceeded my expectations. If you are ready to invest time in yourself, you will receive a great gift in return. I have started redirecting my thoughts and feelings and improved my awareness. I feel more empowered then ever to become a more meaningful me. The assignments I received during the coaching program were challenging, but I enjoyed them very much; they gave me time to reflect and helped me to see things more clear and honest. The sessions encouraged me to focus on my dreams, goals and strengthened the willpower to achieve them. Another highlight was the RTT session, it was very useful to have a quick journey into the past, in order to see where certain believes, behaviors come from and gave me the motivation to move forward differently. After just four weeks, the coaching experience initiated a shift; it definitely evoked transformation and helped me to start breaking old patterns and behaviors. Robert is a great coach and mentor, whom I can highly recommend. KS 06 2020

KS
Great Professional Coach: I recently had the opportunity to work with Robert on a few counseling sessions. My ask was to help me become more confident and productive. I wanted to channel my energies better to have more impact at work. Robert taught me how our unconscious mind plays an important role in our conditioning. He helped me to identify negative thoughts and emotions that were deliberately impacting my mind. His coaching has steered me to become more authentic. I can now focus better and take on work that I am passionate about. Also, just being myself and not being distracted by other peoples perceptions of me, I have gained confidence. Robert also offers RTT sessions. My last session involved this hypnotic therapy. Counter to what you see on TV, RTT is a relaxed state of mind in which the counselor makes suggestions to the mind to let go of inhibitions that detract from producing the desired result. I found this technique to be quite safe and effective. No matter what, you are in full control of the session, and it is only helpful if you are willing to participate and being honest about what is on your mind. As a satisfied client, I would recommend Robert to anyone who is looking into dealing with a life / work-related situation. He is a great person to work with. He is non-judgemental and an active listener. Sign up with him and find out for yourself. You wont be disappointed.

Longhorn - Management Consultant
I was feeling quite lost, without a purpose of life and needing some guidance. Robert just came into my life at the right time, with his compassion, empathy, understanding and no judgment at all. He has a way to hear what you are not saying whether you are aware of it or not. Robert's support has given me more confidence to believe in myself and how I can use my best qualities to achieve the purpose that I'm looking for. I would have no hesitation recommending Robert.

Andreia
Robert is a coach that really gets it. He knows exactly what you are feeling and why you are feeling a certain type of way. A great listener none the less who will make you feel better about yourself whenever you are doubting your thoughts or actions and provide you with a feeling of calmness. However, I must emphasize that you should not expect your coach to solve your problems. A coach will shine light on the real issues and it is up to you to figure out what works for you and what doesnt.

N.M.