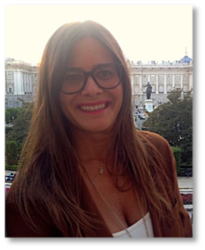 Rocio de la Calle

Madrid, Madrid
Health and Fitness Coach, Life Coach, Career Coach
Certified Professional Co-active Coach, PNL practitioner, Mindfulness-Based Stress Reduction Course
I coach people with a strong desire for greater harmony & balance in their life.They prioritize their well-being, want to build a healthier lifestyle to perform at their best in all areas of life.
About Me
Focus on your well-being and lifestyle.
I coach people with a strong desire for greater harmony and balance in their life. They are ready to make the most important decision: love themselves first! They want to build a healthier lifestyle so they can perform at their best in all areas of their life.
My clients are ready to move from confusion to clarity, from stuckness to movement, from self-doubt to self-confidence and from low self-esteem to self-love and self-acceptance.
With my coaching, I'll help you prioritize your well-being and happiness. I'll help you to take care of all areas of your life, build healthy habits, manage stress and make better decisions so you can take care of yourself amidst the circumstances. We'll create a sustainable plan to create the lifestyle that you want and is right for you.
I'm a Coach because I love helping people to feel good and thrive. When we prioritize our well-being our life improves dramatically and it also has a great impact in the life of people around us. Our well-being is critical to achieve our goals.
We are a unique and complex system so we'll work at different levels mind, body, spirit and emotion because everything is connected and each part impact the other aspects.
The result will be a STRONGER YOU living life to the fullest. You'll still have challenges (that's life) but you'll be better prepared to address them and to use them as incredible opportunities to grow, expand and improve your quality of life. You'll look at life through a different perspective because although we don't have control over everything we do have choices.
I'm a Certified Professional Coactive Coach trained by the Co-active Training Institute (CTI) and a NLP Practitioner. I've been coaching people since 2014.I've also worked as a leadership and team coach. Besides, I have 10 years experience working as an advisor to C-level executives in the private and public sectors.
Reviews
4 reviews (5.0)
Rocío is a great professional coach. Ive had the privilege of sharing with her a self-discovery journey towards my authentic self. Through her empathy, sensitivity and active listening Ive moved forward towards a more positive and bright future reaching my personal, professional and social goals. Thank you very much for your guidance, Ill continue sharing with you the results Im achieving. Thanks a lot for believing in me and for helping me to do the same. The challenges that you have set for myself have been a real boost and motivation for me. Its a real pleasure to meet and work with people like you who enjoy their job with passion and professionalism. Marta. S Psychologist Red Cross.

Marta Sánchez Miranda,
The coaching process has allowed me to achieve my primary and first objective I defined at the beginning of the process: to know myself better, discover my strengths identify my weaknesses, learn how to face and overcome challenges and difficulties and get the best out of my strengths. What I value the most is the self-knowledge and self-management tools Ive acquired that I can use in my daily life in order to get a deeper understanding of who I am and how I behave. For me, having practical tools is much more important than just understanding certain behaviors. In my view this is the most powerful thing Ive learnt with the coaching process.

Pedro Parrilla
In 2012, I follow a coaching process with Rocio de la Calle. In that moment, I was in a transition from my previous jobs (in the cooperation field; working for international organizations or OSC). I had no idea about how to follow my profesional (or even my personal) life! Several years later, I feel that "I am exactly where I want to be in my life". I am a free lance consultant and I really enjoy in my job, working with a group of friends and using flexibility to make it them compatible with my family. Rocio´s coaching process was one of the powerful tools to achieve these goals. She "walk" with me to build my self-confidence, my voice and also to identify what my dreams were!. Thanks Rocio!

Ana B. Santos
My experience in the coaching process with Rocio was very positive and constructive, it helped me to realize that I was failing in my life and have the courage to take the actions to solve it. The most fascinating thing is that the best happens when the process ends it seems that it ends and you will no longer get more results but if the coach is good, as it is, the best results come later, when you integrate what you have worked and without realizing you get what is in tune with your essence with your values and what really matters to you. Rocio holds the sessions very well and lets you be the protagonist of them as well as of your own transformation and your new life.

Celia R.