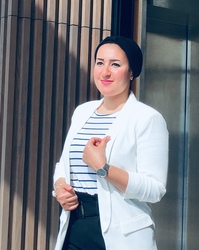 Roshan El Boghdady

Dubai, Dubai
Life Coach, Relationship Coach, Career Coach
International Society of Neuro Semantics
Are you frustrated for not being valued? Tired of doing something you don't love? Do you want to find your passion & bring back the spark into your relationships or marriage? Then I'm your coach.
About Me
I'm a motivational speaker, life coach, NLP Practitioner and Strategic Interventionist, I'm extremely passionate about coaching and training, I have trained & coached over 9,000 individuals over the past 8 years in different industries and countries & I hosted many events and conferences, including but not limited to Aviation, Telecommunications, Healthcare, Pharmaceuticals, Cosmetics, Airlines, Education, Automotive, Banking and Real Estate.
My philosophy is always to coach individuals to raise their self awareness, passion for success and their self-confidence and allow them to choose their path for happiness and fulfillment.
Investing in people's lives is what I do best, I use transformational coaching techniques that aim into helping my clients discover their real selves, live up to their potentials, and find happiness, confidence and love within themselves.
I've built my own coaching models based on all the knowledge and experience I have acquired over the past years.
My materials and models are based on Meta Coaching, Robbins-Madanes Coaching, NLP and Neuro-Semantics.
I'm specialized in the following:
1- Couples who lost passion and happiness and are going through instability in their lives, with my "Love 4 Me & U" Program, you will regain the fire and spark back into your relationship.
2- I've struggled myself with finding my passion after I graduated, so I've decided to guide success-oriented people to find their gifts. With my "My Inner Fire" Program, you'll learn how to tap into your powers and strengths, set an action plan and turn your gift into a profitable businesses.
I'm here to help you overcome the obstacles and the inner critic that are preventing you from living the life you deserve, looking forward to transforming your life.
Reviews
4 reviews (5.0)
Before working with Roshan, I didnt know how prioritize, I worked most of the day, my relationship with my wife was on the verge of collapsing, she complained the whole time that I didnt understand her needs, I didnt have enough time to spend with her or the kids, all my energy was all dedicated to work and only work, me and my wife decided to go through the 2-month program with Roshan. It really changed the quality of our life, I now can manage my time better, I understand my priorities and wifes needs and how to live according to them to be a better husband and dad, this program saved my marriage, Im so grateful.

Samir, IT Manager, Egypt
Engineer, Egypt Ive worked in the engineering field for 15 years, I was never fulfilled, I was so afraid to quit and take the risk, every morning I felt so miserable and not being able to wake up, get dressed and go to work, it became a very difficult process, my productivity was so low and I lost all my motivation to keep working as an engineer. After working with Roshan, I realized that my hobby can be turned into a business, I found my passion in painting, she encouraged me to follow my passion and showed me how to work on it, now I have a lucrative business and my weeks are usually fully booked with clients who want to buy my services and I started displaying my paintings in exhibitions, I can assure you that My inner Fire is a must for everyone looking for his passion and want to pursue success and self-fulfillment.

Ahmed
Recently, Ive lost my self-confidence and felt worthless and not able to find purpose in life, I started overeating, stopped seeing friends and ran away from life by sleeping too much, I was so depressed and didnt want to work even. Roshan is a great self-motivated coach, she reached deep down into my soul and helped me find my true calling in life that made me feel alive again, she is very patient and good listener, she was able to perfectly analyze my problem and helped me brainstorm the right solutions for me. Im so grateful and happy, now Ive started reconnecting with my friends again, I feel more confident to date again and more energetic and motivated that I was able to finish my training in project management and get promoted to regional project manager in the telecommunications business. Her program benefited me in all ways, everyone whos looking for more confidence, more self-awareness and success, should enroll. Mahmoud, Regional Project Manager, Dubai, UAE

Mahmoud Hassan
For years, Ive been struggling with my husband, I felt like our relationship was falling apart and that well never be able to love each other the same way we used to before, after joining Roshans program, Ive able to reconnect with my husband, understand his psychological needs and mine also that made us fall in love with each other all over again. Now we have an amazing relationship, were able to overcome our arguments and solve any problem in our way, even our children can feel the difference. Roshan is an amazing dedicated coach, she was able to see through me and use the right techniques that made me feel at ease. I definitely recommend her program "Love 4 Me & U" to every couple who want to fill their lives with love again. Rawan, HR Manager, Dubai, UAE

Rawan