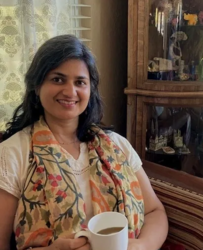 Ruchi Sood

Granite Bay, California
Life Coach, Relationship Coach, Career Coach
Life Coaching Certificate Course, iGNLP™ & ABNLP Accredited - NLP Practitioner
If you are dealing with troubled relationships, low self esteem, or confused about life direction, I can help you create the life you imagine with a renewed sense of self and stronger relationships.
Details

Granite Bay, California 95746

9169603943

Send Message
Visit Website
Hourly Rate: $100 to $150 US Dollars
Gender: Female
About Me
Are you feeling overwhelmed or stuck in your life, work or relationships? You don't have to carry the burden alone - I'll be there to help you through any challenge you're facing and find back your strength and confidence to create the life you deserve. Together we will work to create tangible goals and I will help you find the right tools to clear your mind and path towards your goals. In addition to being a certified life coach and an ICF Member, I bring several years of professional experience including 20 years of corporate leadership, teaching and mentoring experience along with an Engineering Background. As I raised my family in different countries and cultures and navigated big and small challenges, I have been intrigued by how simple or complicated our lives become because of what our circumstances are, and more so because of how we choose to respond to our circumstances. For each of us, the meaning of life is based on our own life experiences, and also on how we build on it.
Many times, when we are going through a difficult patch, or just questioning our own purpose in life we need some guidance and support in our quest for answers. I will be your support as we find your answers and march towards the life of your dreams. My clients are typically able to find balance and clarity soon after we begin our journey together, and soon after, we move towards growth and empowerment, so the life of their dreams gets the true chance it deserves. Life is your biggest gift and investing in yourself will give you the best returns. You've already taken the first step - don't miss this opportunity to make the most of what you have in store for you.
"If you change the way you look at things, the things you look at change." - Wayne Dyer
Reviews
4 reviews (5.0)
Ruchi has been great to work with. She brings all her experience and training to the coaching session. She is supportive but also holds me accountable and pushes me.

Joel L
Ruchi has been very helpful since we started our coaching sessions. She is a good mix of empathy, a good listener and at the same time makes me accountable so I am able to meet my goals. She is also not judgmental and understands the struggles and challenges of being human. I am so grateful I met her.

LC
After working with Ruchi I was able to get to the core of what was holding me back. She provided me with practical guidance on how to get unstuck and shift into a life where I could experience freedom and joy. I was able to move past the status quo and stay committed to my growth. Highly recommended!

Tammy
Working with Ruchi has been so rewarding and eye-opening. I had some relationship issues that were really weighing me down, and she helped me understand and eventually resolve those issues. After each session I walked away with actionable steps that I was able to implement, and it truly made a difference. She is an absolutely wonderful coach - I have gained so much clarity and peace thanks to Ruchi and I am so grateful. I would highly recommend her!

Alex