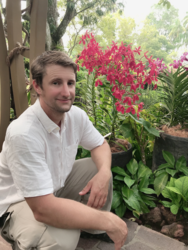 Ryan Johnston

Los Angeles, California
Health and Fitness Coach, Spirituality Coach
AFDN-P
I help people with mental, emotional or spiritual difficulties who are motivated to find inner peace. My clients are interested in raising their physical health to fix their mental health.
About Me
I am a functional diagnostic nutrition practitioner. I help people heal their digestion, balance their hormones and support their neurotransmitters to achieve ultimate brain health! My methods are unique: I used advanced laboratory testing to find hidden contributing factors to your health crisis: food sensitivities, parasites, infections, leaky gut, toxicity and many more! I use all the lab tests to design your personal health plan. I call it D.R.E.S.S -- diet, rest, exercise, stress reduction and supplementation. We then meet regularly to make sure you stay on the path!
I use FDN in combination with my spiritual background to achieve health in all levels -- physical, mental, emotional and spiritual.
I don't only bring my training to the table. I have personally been through many hardships and have even had cancer! Here is my personal bio...
"If there is anything I understand it is being sick. I was diagnosed with cancer of the kidney when I was only eight! I went through chemotherapy in the 80s!! Once I thought the barbaric experiment was over, it came back into my lung. I had an additional year of chemo, radiation and multiple surgeries. I almost died multiple times and I experienced a lot of strange things like hallucinating and being awake in surgery. It never bothered coming back. Medical science is great at keeping you alive not so great at keeping you healthy. The devastating effects of treatment left me with health issues I am still battling. During the same time, both of my parents died from cancer. Believe me, I have seen my fair share of hospital rooms!"
There is more details on my website.
Now, I wish to help people to become happy and healthy, so they can help others be happy and healthy!
Reviews
Ryan doesn't have any reviews yet.