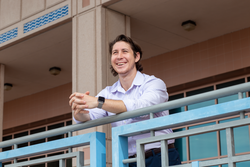 Life Coach, Career Coach, Business Coach
BS, MBA
I coach goal-oriented individuals, business professionals and those that are seeking to create the life they want. If you are ready to make positive change in your life, I am the one that can help.
About Me
Do you have a goal in mind? Or a positive change that you are craving to implement in your life? Do you feel stuck, unclear on direction and aren't seeing the results you want?
I work with people just like you. Together we will:
• Create the life that you most desire and serves you in the most
meaningful ways.
• Get clear on the goal you have in mind, understand the importance
of attaining this goal and how doing so can transform your life.
• Visualize and be the person you have to be to accomplish this goal
or change. Your identity and the way you see yourself will be
transformed.
• Outline actionable items that get you moving towards your goal
while navigating the inevitable obstacles we always face along the
journey.
I believe that all great changes and goals in life are sparked through deep introspective work followed by dedicated action. In my educational, professional and recreational goal setting experience, my drive to take action has always started with a deep desire or wanting for something. This usually is underlined with a meaningful "why". Once I understand "why" something is so important to me, the dedication and actions that follow are that much more powerful and I tend to persevere through the obstacles I face along the way.
With my clients, we take a deep look at what is driving their behaviors. It takes rigorous honesty and courage, but what we can uncover together can be life changing. From there, we will work together to find the right actions to take moving forward. This is a collaborative process, but ultimately, my clients are the authors of their story. They choose the path and create the life that they want for themselves. I do not claim to have a blueprint to life but rather, I am your partner in designing the life that is most meaningful to you.
If any of this speaks to you, I encourage you to reach out to me for a conversation. Looking forward to meeting you.
Reviews
2 reviews (5.0)
Ryan is well worth the investment of time and money. He brings incredible value and insight to the table and makes every minute count. In my experience with Ryan I have felt nothing but supported and challenged in the most positive way possible. He is not only process driven but really knows what questions to ask to get me thinking about the whys behind my goals. You can really tell that he is intentional with his time and coaching and is committed to helping find focus, becoming centered, overcoming obstacles, and whatever else is needed during his coaching sessions. He does not approach me like a one size fits all because everyone's life experience is different. And he truly cares about helping me to accomplish said goals by helping shift my perspective and taking ownership and accountability. Sessions with Ryan aren't scary, though doing the work can be, instead my time working with Ryan is something I look forward to and truly enjoy.

Jasmine L.
Reaching out to Ryan was one of the best things I've done in a while. I needed help organizing my life after losing a job and finding myself chasing my tail constantly. Ryan was so easy to talk to and relatable that within the first session I was able to open up and talk about my situation as if I was talking to a good friend. Ryan provided fantastic insight on my prior accomplishments to leverage as a launchpad as I move towards a new chapter in my life. He helped gauge my interests and through collaboration and guided questioning we were able to chart how I should organize my life and find a new path. Since our coaching sessions I find that the vision for my future is in focus and I'm always engaged and excited to work towards my goals. I stopped chasing my tail, started a business and have not looked back since! Thank Ryan for all of your help!

Andrew Z