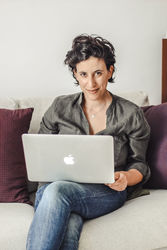 Sabrina Sassi

Palma, Balearic Islands
Life Coach, Career Coach, Entrepreneurship Coach
in Languages and Cultures; Facilitating & Developing Group Coaching Programs ALS (ICF CCE)
Individuals in a cross-cultural environment missing direction, vision & collectiveness. You wish to lead your life with integrity, align purpose & success with professional support & accountability.
About Me
Hi, I am Sabrina & I am incredibly proud & fulfilled by being a coach!
I'm born in Belgium, multilingual & initially studied languages & culture. I've lived & worked abroad after University & eventually settled in Mallorca, which is now my home.
What I have in common with my clients is a hunger for change, seeking growth and fulfilment in ourselves, business & the world in general. We are enthusiastic contributors & curious learners of life. Believing that perseverance & passion combined with a supportive environment, can bring incredible growth.
My coaching is focussed on individuals & businesses who value integrity, authenticity, diversity and collectiveness.
Solo Entrepreneurs, Small Businesses, Leaders & Manager that wishes to improve & develop, synchronize purpose, build cohesion & success.
My general philosophy is back to basics – refresh – create awareness & clear understanding. Prioritize & focus back on the people, values & your legacy, while developing the sense connection & participation. That may sound simple but takes dedication & it's going to be fun!
I merge my personal experience with professional trainings through the ICA, ICF & continue to develop through certified channels to maintain my PCC & ICF's professional standards.
Each session is different, there is no fixed schedule as I don't coach the problem, I coach YOU.
The sessions are a safe space, to feel both vulnerable & confident. Making it creative, adaptable so you can find the best version of yourself & inspire others to greatness.
I am altruistic by nature, enthusiastic & a lifelong learner.
When not coaching, I love quite time, walks, writing & reading. Travelling & meeting new people is always on top of my list.
I am completely obsessed with food (in a good way!) so love culinary trips, cultures, cooking at home & spending quality time with my loved ones.
Thank you for reading & your precious time.
I look forward to connecting & until then wishing you a great day,
Sabrina
Reviews
2 reviews (5.0)
Making the decision to engage with a "Life Coach" was an easy decision for me after meeting with Sabrina. Her warm and open demeanour made me instantly relaxed and I never felt pressured to respond in anything but my own time. We actually ended up spending a great deal of time working together and I can honestly say it was an incredible experience. Sabrina helped me navigated through both career & life coaching sessions and also helped me hone my leadership skills along with my time management. I have come out of the end an improved person both in my personal life with my family and work life as a leader. I highly recommend Sabrina as an excellent go to for any coaching needs.

Iain Cook
I employed Coaching Palma to assist in team building and recruitment for a very high profile charter yacht. Some of the crew were a little sceptical at first, but quickly came around after working with Sabrina. The process and results were very impressive and of great value.

Superyacht Captain