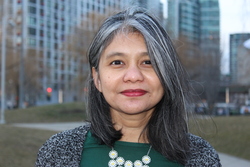 Sabrina Sourjah

Toronto, Ontario
Performance Coach, Career Coach, Leadership Coach
Adler-Trained Coach (ATC), High Performance Coach (HPC), Trained in Positive Intelligence
Are you an overworked and disengaged professional who feels misunderstood in the corporate world and by your friends and family? Let's reclaim your strengths and take bold action toward fulfillment.
About Me
I coach closeted creatives, activists, and community workers who feel misunderstood in the corporate world and by some friends and family.
Do you feel like you did everything you were supposed to do, but you're still unhappy? You feel guilty about your unhappiness because you have so much to be grateful for as well. You know that there's more to life than paying the bills, but you're overwhelmed by all other career options. You have given up so much and worked hard to get where you are now. So, it's fair that you're feeling scared about risking it all and making a big change in life.
I was also once where you're now. You're here because you have lost touch with your own needs; you have lived life for others. But your most authentic self has all the answers you're looking for. All you have to do is to connect with your most authentic needs and self.
You can have a life of happiness. You're entitled to want a career, relationship, and community that fills you with joy and meaning.
My Authentic Living program is here to hold your hand while you take the risk and change your life. I'm here to cheer you on when other people in your life may be projecting their negative beliefs on you. Together, we will reconnect to your most authentic self and take bold action toward your happiness and fulfillment.
Most of my clients say that my thought-provoking questions, complete presence with them, honest and open feedback, and effective but simple tools have helped them build their self-confidence, reframe unhelpful perspectives, understand the value they bring to their workplaces, families, and communities, and gain forward momentum. Many start to enjoy their work genuinely and find deeper meaning in their lives.
In addition to my coach training and accreditations, I have been on a self-growth journey myself, making a major career change from project manager to freelance writer and coach, navigating a divorce, and becoming more authentic in how I connect with people.
Reviews
2 reviews (5.0)
I've always wanted to achieve great things in life. But something was weighing me down and blocking me from propelling forward. I was stagnating and could not grow as a person or in my career. In a way, I had accepted the status quo. When I started working with Sabrina, I came to realize that in order to grow, I need to embrace my authentic self and increase awareness about my mindset. During my sessions with Sabrina, I got the opportunity to reflect on my current status and hopes for the future in a deep manner that I have never done before. The powerful and eye opening questions and tools she used got me to revisit my past and truly reflect on my mindset in different parts of my life. I was amazed by the revelations during these sessions and it was comforting to the soul. We looked at different parts of my life such as health, career, finances, personal development, friends and family, fun/recreation, and living environment. When you start talking about these multiple aspects of life only do you realize that you are contented with these aspects to varying degrees. I identified that I need to work on my career, personal development, and fun/recreation. We worked on how to change my mindset and it was truly liberating when I realized that I can tap into the growth potential inside me. I worked out an action plan that contains a morning routine and regular daily checkups with myself. I'm now getting better at using mind space effectively. This is helping me to transition from a fixed mindset to a growth mindset. Sabrina has an amazing coaching talent to show the path and empower you to be the change agent.

CA
Sabrina is a great coach! Wise and compassionate, she has helped me to get to the root of my challenge and develop real action plans that allow me to move forward to my goals quickly. I have been coached by Sabrina for over a year and she always delivers a great session that is a tremendous help to me!

David Meldrum