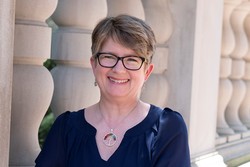 Sally Ankerfelt

Minneapolis, Minnesota
Family Coach, Relationship Coach, Spirituality Coach
BA, MA, Resource Realizations Coaching Academy, Certificate of Trauma Studies University of Minnesota, Master of Divinity Luther Seminary
I work with adoptive parents or families who are hitting a roadblock and want to throw in the towel. Together, we discover strategies and skills to reclaim your life, renew your family, and find hope.
About Me
Sally combines her personal experience with her professional training to assist you in getting "unstuck." Most families and relationships have times when their wheels are spinning with little movement forward. This can cause distress, hopelessness, and a sense of failure that can influence how we feel about ourselves and our family. We can forget who we are and feel lost. If we get a little extra support or push from someone who has "been there," we can move forward again with new confidence. As a coach, Sally can provide that push by offering new insights, tools, and goals for you or your family.
Whether face-to-face (Minneapolis/St. Paul, MN) or via phone/Skype, her coaching includes co-creating a coaching plan that informs goals and new practices. Sally holds you accountable, identifies roadblocks, celebrates successes, and accompanies you without judgment or criticism. You are the in driver's seat as we journey together.
As an adoptive parent, Sally has a special commitment to support adoptive families. In 2011, she became a founding member of GIFT Family Services, a coaching company that assists families before, during and after adoption. After noticing the trauma that surrounds adoption, Sally received a Certificate in Trauma Studies from the University of Minnesota to increase her skills and awareness of the effects of trauma on behavior, connection, education, and family cohesiveness. In Fostering Families Today (Feb/March 2019), you will find Sally's article on the trauma of loss, "Why Am I Sad?: Living with Ambiguous Loss."
Sally also is a Lutheran pastor in the ELCA. In 2015, she was awarded a grant to study the effects of trauma and how the church can help bring hope, healing and wholeness to people's lives. In 2019, Sally and her coaching colleague co-authored a book, "Reimagining Adoption: What Adoptees Seek from Families and Faith."
Sally looks forward to working with you so that you can find renewed joy and hope in your life and with your family.
Reviews
2 reviews (5.0)
I have had a very positive experience working with Sally the past 5-6 years. When life was most challenging for me and my daughter, she was my voice of reason and always very calm, which in turn helped me. She was always just a phone call away. She listens quite well and offers nonjudgemental feedback and suggestions, if you want them. She has been a trusted adult for my daughter and has been very professional regarding confidentiality. I appreciate how she has approached my daughter about her adoption, trauma, and how it has influenced her, and us. Sally is easy to talk to and can ask the right questions that help me better understand my relationship with my daughter. I also appreciate that on numerous occasions, she has a talent for being able to lighten up a situation when appropriate, usually at her own expense! I cannot thank Sally enough for all that she has done for our family.

Sarah
Sally Ankerfelt is a compassionate, professional, calm and empathetic voice in the midst of what can be a chaotic, emotional and confusing time for adopted children, teens, and adults and their parents and families. She approaches her work with intention, kindness and research-based insights that strengthen family connections, help with self-esteem and coping skills, and lead to a new understanding of the depths of the adoption experience, and how to navigate it. She also has first-hand experience, and helpful, approachable tools to aid with life skills and emotional development through trauma. I would recommend GIFT Family Services to anyone and everyone who is traveling the incredible adoption journey.

Lydia Anderson