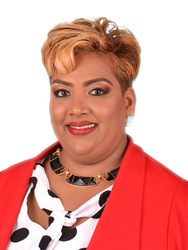 Sally Ann Bharat

Port of Spain, Port of Spain
Relationship Coach, Career Coach
BA, MBA, Doctoral Candidate, Licenced Coach Speaker Trainer with The John Maxwell Team
Are you struggling in your relationship? Do you have clarity in your life? As a coach I help couples and individuals overcome their challenges and discover their purpose in life
Details

Port of Spain, Port of Spain
+18687307639
Send Message
Visit Website
Hourly Rate: $125 to $200 US Dollars
Gender: Female
About Me
Is your marriage or recent break up having a negative impact on the rest of your life? Are you tired of being single or dating the same person over and over again: different town, different name?
What if you could create a better relationship with yourself, which would help you attract healthier, more compatible people and improve all areas of your life?
I'd love the opportunity to help you make better relationship and life choices. We start by rebuilding your self-confidence so you are not looking to someone else for it and you can focus on improving your life, career and relationships. We eliminate the negative self talk that is holding you back from flourishing and sort through the patterns that are keeping you stuck.
Throughout my life and 18-year career, I've always loved helping people "re-engineer" and re-invent themselves. To learn new ways of thinking that allow them to live life by their own design instead of default.
I serve as your guide in this process. I believe we all have the inner wisdom and power to find our own answers. My coaching process focuses on shifting your thoughts, feelings, and beliefs. Understanding your existing paradigm allows you to understand how you interpret or view the world and identify the stumbling blocks preventing you from accomplishing your goals. I will help you intentionally direct your thoughts to your goals and desires. As a result, you will feel happier, more successful, and have greater sense of fulfillment.
My clients feel a sense of relief and empowerment after working with me. They feel ready to tackle challenges or obstacles they are faced with.They are able to move forward with confidence, peace, and clarity as they have a deeper understanding of themselves.
My passion for seeing people develop and thrive is what lead me to transition from the corporate world to focus on coaching, personal and professional development of others.
Reviews
6 reviews (5.0)
Sally Ann, your relationship coaching exceeded my expectations and took my love life to a completely different level. I will strongly recommend your services to persons having difficulties in their relationship.

Takiya, Wife, Trinidad
Sally Ann, your coaching helped my marriage in many ways, I highly recommend your services to anyone having marital problems.

Keith, Jamaica
I would highly recommend Sally Ann to any person desirous of growing themselves or organisation, no matter where you are in the company's life cycle or in your personal life. Her charisma and ability to move you into action gave me new hope that we truly can achieve whatever we set our minds to achieving. The sessions were deep and called for a lot of self introspection. At this point in time of my life, being coached by Sally Ann was an eye opener for me. There were several key areas that coaching helped me discovered, which was my personal growth is key to my success in my personal and professional life. Career Coaching also helped me have clarity on where I want to go and how to get there. Each Coaching session helped to be become disciplined and consistent in order to grow as I lacked consistency and being disciplined over the years. I strongly believe if persons have difficulties transitioning in their life or need a sense of direction, Sally Ann's coaching can help them resolve their issues. Thank you Sally Ann for giving me a sense of direction in my life. I will strongly recommend your services to individuals and organizations.

Leslie Ann, HR Manager, Trinidad
Sally Ann Bharat gets my highest recommendation as a coach. I was amazed at her unique ability to help me discover my strengths and how to achieve my goals in life. Sally Ann helped me discover areas that needed to be improved in order to reach my goals and objectives. Sally Ann is a Certified Coach with the John Maxwell Team, and I can confidently say that she is fully equipped with the resources needed to help you take your life to next level of success!

Debbie, HR Specialist, New York
I loved working with Sally. Her coaching style makes you really focus on who you are and what you want in life. The softness in Sally's voice gives you that feeling of comfort to really express yourself and know that everything remains private and confidential. Sally genuinely cares about her clients and helping them achieve their goals whether it is dating, building a relationship, developing yourself or taking your life to the next level. She really puts her heart into this stuff. Sally helped me to overcome past hurts and pains and to love again. Dating has now become exciting, fun and loving and I feel more confident about myself and what I want in life. Sally brought out the best in me and help me discover that I am truly beautiful deep within and on the outside. I will strongly recommend Sally to anyone desirous of having a coach for personal growth, relationship or marriage issues or simply to navigate life. Thank you Sally for working with me.

Kristin, HR Manager, Texas
Coach Sally a.k.a"The Love Doctor" is an amazing coach. She's soft spoken and very warm. During my first coaching session, even before Sally began addressing my career issues, I felt much relief just due to the ambiance she resonates. Sally is one of those very few coaches around that's really interested in you and commits everything towards helping you overcome challenges in your corporate team, career and relationship. She is an advocate for Love in Relationships and Personal Development. Sally is really amazing and a patient and beautiful coach - in and out. You will find her services very professional and effective. I'll advice anyone to give her a try and I believe she's one of the few best around. My last advice, her gentle approach can definitely make you Love again and put the spice back into your love life. My #1 Coach, Coach Sally, a.k.a Dr. Love

Kingsley Adindu, HSE Officer, Nigeria