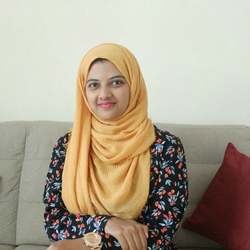 Salma Sheriff Tamil Nadu
Business Coach, Entrepreneurship Coach, Leadership Coach
Masters Degree in Information Technology - Bachelor's Degree in Computer Science & Engineering
I coach passionate women entrepreneurs who want to build an online business, up-level their existing business or create a strong Online Presence to make a strong Impact.
About Me
I work with:
- Committed entrepreneurs who aspire to become a Successful Business Owner
- A passionate entrepreneur who want to scale the Business to the next level
- A corporate employee who wants to leave the 9-5 job and build a successful for themselves.
- Someone who already has an Offline Business and wants to take it the next Level by Bringing it ONLINE.
**** About Salma ****
Salma Sheriff is a Business Coach & Brand Strategist. She helps women entrepreneurs and bloggers build a strong foundation online through Profitable & Automated business & help them hit consistent $5K / $10K months and above while working less and being location independent.
Salma is an award winning Blogger & Entrepreneur and has been featured in various websites for her work, some of which may include, "ICICI Women Achiever Award", in 2017 but ICICI Bank, "Entrepreneur of the Month", by OpenDesigns in 2016, "Top 5 blogger" in India.
She is an Engineering Post-graduate from India and she follows her passion for Design & Coaching to help other entrepreneurs and bloggers live their Dream Life with a Business they Love!
Reviews
Salma doesn't have any reviews yet.