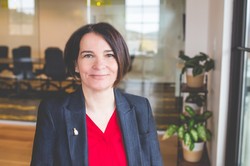 Samantha Mathis

Seattle, Washington
Leadership Coach, Career Coach, Executive Coach
Registered Corporate Coach; MBTI Accredited, Core Strengths Accredited
I coach military personnel, veterans, professionals, and corporate teams to expand their horizons and master their goals.
About Me
I am an experienced professional, career, and leadership coach, working across the United States and the globe. With an extensive background in leadership, learning & organizational development in international environments, I bring a unique perspective that helps my clients learn how to explore and navigate their journeys beyond their limits of today.
Whether you are recovering from a career setback, seeking a new promotion, different opportunities, or just want to unblock any obstacles and be as effective as you can, we'll work together to empower you to get back on track.
My professional career has focused on developing people. My leadership experience is drawn from extensive experience working internationally with cross-cultural teams, often in challenging environments. This has included working with U.K. and U.S. militaries, and on projects for the U.S. and U.K. governments, the United States Agency for International Development and Non-Government Organizations, as well as in the private and education sectors. I have led and worked with many different types of leaders and sizes of teams - government, military, corporate, NGOs and non-profit - in the Americas, Caribbean, Middle East, Africa, Asia and Europe.
My Approach
In order to have true success, you must get real about where you are and where you want to go in your life. This is the hardest step, but the most important one, because without clarity there is no real progress. My first job is to point the way and help you see the hard things, the blind spots. Once I help you get to the hard things, then we can explore and understand them so you can master the steps needed to accomplish your goals.
EXPLORE your roadmap: your purpose, goals, values, motivations, strengths, and skills
UNDERSTAND your direction: learn your routes, options, limiting beliefs and roadblocks
MASTER your journey: build your plan and put in concrete actions to achieve your goals