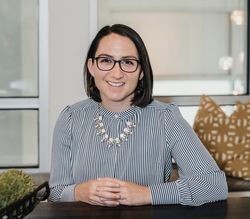 Samantha Strom

Denver, Colorado
Career Coach, Leadership Coach, Life Coach
Masters of Science in Organization Development and certified practitioner of the Myers Briggs (MBTI), Emotional Intelligence (EQ-i), FIRO-B, and IDI.
I coach young professionals in their 20's and 30's going through a quarterlife crisis. I help clients figure out their passions, navigate workplace challenges, and land their dream jobs.
About Me
As a millennial, I can truly empathize with the challenges of the modern workplace. Needing experience to get experience. Expectations of a job not meeting reality. Living up to an impossibly high standard of achievement. That's why I decided to call my business Quarterlife Crisis- all of my clients were experiencing the same things, and they were overwhelmed trying to figure it all out.
There is nothing that makes me happier than when I can help someone navigate these challenges. Whether it's helping someone get into their top grad school or supporting them to realize they actually are (likely more than) qualified to lead a team- I am your #1 fan!
I've been working independently as an International Coach Federation (ICF) certified coach for five years. In that time, I've helped hundreds of clients land their dream jobs. My strengths are helping clients figure out what they really want by weeding through all of the self-doubt and expectations from society to get to the core of their passions and interests. I also have a knack for writing resumes, LinkedIn profiles, and drafting interview answers and can help people really sell themselves.
I also host an advice podcast, Closely Related, with my identical twin who is a therapist! Listeners write in about their stories and questions about work, relationships, and everything in-between.
In addition to my own business, I serve as a contract coach for the Flatiron School, a coding bootcamp, and Springboard International, a consulting firm. I also worked at Johnson & Wales University (JWU) for two and a half years as a career advisor and adjunct faculty member. At JWU, I taught courses on career readiness and organization dynamics and ran a leadership program.
Reviews
9 reviews (4.89)
Sam has a wonderful way of listening and guiding. During my time of career crisis (after graduating from grad school unsure of what path I wanted to take), she did not tell me what to do. Instead, she questioned me every step of the way to get to what I wanted. This support was exactly what I needed, but that was not all she offered. When I transitioned into need tactical help, like resume review and interview prep, Sam was there again. She is someone with many talents who can help any client in a variety of ways!

Nicole Goehring
I met with Sam to edit my resume to better help me get my second job out of college. She showed me how to use the language in the job posting in my resume to get past company filters, and helped me create an executive summary section on my resume. She was so easy to work with and understood exactly the types of jobs I was trying to get. It's been super helpful!

Karlyn Russell
I was hit with an unexpected job loss (as our university announced it would be closing). We were all understandably nervous about finding a job during the pandemic, and when higher ed was floundering. I immediately reached out to Sam, who was fantastic. I talked with Sam about what I had been struggling with, as I had been job searching for a few years before any of this happened. I felt aimless, and didn't know how to take the next step. Sam was great at listening to my process and what steps I had taken. She helped me clean up my resume and my LinkedIn. She also encouraged me to get some professional photos (which I had been putting off). All of these things were incredibly helpful, I not only started to get more second round interviews but also noticed an up-tick in my hits on LinkedIn as well. Sam was great at getting me to focus on where I wanted to be (dream job), what was realistic given the market, and how to keep working towards that. I now have a new job which has put my mind at ease given the future job loss, and continue to work towards my dream job and am taking actionable steps to get there someday. I know that none of this would have been possible if Sam hadn't been there, cheering me on and helping me along the way. I could not recommend her more, and encourage anyone who also feels like they are floundering, or just need a good nudge to get them started, to reach out to Sam. Best decision ever, I'm so thankful for her!

Sara A
I was lucky to be able to work with Samantha on the first draft of my resume. She was generous with her time as we reviewed my current position and previous resume. She provided a very quick turnaround on the resume and welcomed my feedback. She sent over a final version of the resume as well as an executive summary. She also provided some information regarding updating my LinkedIn page and ATS systems that help match resumes and job descriptions. When all was said and done, I had a great start on my resume, a professional executive summary, some tips for LinkedIn and an introduction to utilizing an ATS system. Samantha was a pleasure to work and her support was greatly appreciated!

Shellie
I recently worked with Sam on improving my law school application and she was incredibly helpful! There were two primary components of my application that Sam helped me with- a resume and a personal statement. She provided insightful input on both components at multiple stages, including developing the subject for the personal statement, building the format of the resume, honing the central messages of each component, and engaging in many many rounds of editing. With this help, I have now been accepted to a top ten law school!

Joseph Zimmerman
Sam helped me with my resume as I prepared for a job search in the midst of the COVID-19 pandemic. She truly understands the job market, and what's needed for me as a young professional to put myself out there succinctly and effectively. Sam also has an eye for detail and found important marketing points that were hidden by my previous wording and formatting. Ultimately, Sam taught me how to work smarter not harder when applying for jobs in this current market, and as a result, my resume was picked up by a company that I'm excited to be part of"

Sarah Taylor
Sam is not only an excellent person but her expertise in professional development is overwhelming. She was patient, professional, and knowledgeable in revamping my resume and LinkedIn. I would highly recommend Sam to anyone looking for professional growth!"

R. Denny
Samantha's coaching helped me reestablish confidence in myself at a time when I was feeling stuck in many areas of my life. Her compassionate and knowledgeable approach created a space where we could work as a team towards my goals. She consistently made me feel supported while at the same time challenged me to dig deeper. Her expertise and encouragement continue to make a positive impact on my life."

Emily
I recently finished a Master's degree in applied physics, but didn't love my field. I felt like there was nothing I could do that would align with my interests, but Samantha helped me see new exciting career paths that I hadn't even considered. She sat down with me and helped me find out what my interests actually are, and helped me brainstorm some potential careers that went well with those interests. Now I'm considering teaching, making a start up, and coaching a sports team, and I feel excited about the future. Thanks, Samantha!

Miles Faaborg
The Smart Way To Find A Coach

1 Describe Your Goals

2 Get Matched

3 Free Consultations
Find My Ideal Coach Now