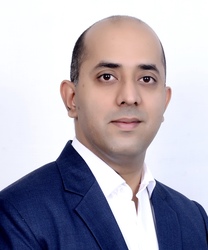 Relationship Coach, Life Coach, Business Coach
3x Best Life Coach Award (Certified under Tony Robbins), NLP Practitioner, Counsellor, MBA, CA. 2x Bestseller Author. Featured on TV on Zee Business.
Single or Married? Confused about Divorce or Separated already? I can assist you choose your ideal partner, teach how to overcome challenges in marriage or get peacefully divorced (if you so decide).
About Me
Do You Talk Less & Fight More? Your Spouse Doesn't Feel Loved? Unhappy in Marriage? Well, you are NOT alone!
Unfortunately, majority couples experience such ups and downs in their life. Relationship problems are like a slow-poison. We are unaware of its devastating effects before it leads to an unhappy marriage.
While it seems a daunting task, relationships can be reworked with a shift in focus. However, there are obstacles. Either we avoid talking about it with anyone (out of fear or shame) or reach out to our friends or family, who are biased and unable to show us the real picture.
Stuck in life? Here I am... SOMEONE YOU NEED...
I provide you with that listening ear with whom you can speak your heart, express your feelings, share your life without being judged, in a trustworthy, safe & confidential environment.
Subsequently, we work together towards finding happiness (in or out of your existing relationships) by empowering you with key tactics on handling situations better. Single or Married? Confused about Divorce or Separated already? I can help you choose your ideal partner, teach you how to improve your marriage or get peacefully divorced (if you decide to step out of your toxic relationship).
I'm Sandeep Bogra, a certified Relationship & Life Coach, Founder - "Someone You Need" since 2012. I completed my coach training at Robbins-Madanes Training under Tony Robbins, Cloe Madanes, Mark Peysha, and Magali Peysha. NLP Practitioner, certified Counsellor, certified in communication skills from Dale Carnegie Training, Chartered Accountant (CA) & MBA. Started my career at McKinsey & Co.
Accolades:
1. Life Coach of the Year by Action Coach, Franchise India & Entrepreneur Magazine at IMBC Awards 2021 in India
2. Best Life Coach, Speaker & Author by Bollywood Actor, Sonu Sood at IGA Awards 2021
3. Top 20 Relationship Coach Globally by Coach Foundation in 2022
4. Featured on TV in India on Zee Business
My mission: "Touch & Transform Lives for the Better"
Reviews
15 reviews (1 verified) (5.0)
Sandeep has been a great coach to work with. His communication skills and attention to detail are amazing. In the beginning, I was a little hesitant to hire a career coach, but after meeting him on the discovery call, I realized that this person can help me. I approached him about my procrastination and discipline issues. But with his fabulous knowledge and guidance, he helped me understand that the real problem wasn't my procrastination after all. He encouraged me to see things from a different point of view and with more clarity. Moreover, he kept me accountable for everything, and the results were just amazing. If you're looking for a sign to get life coaching or career coaching from Sandeep, this is it. Go ahead and book that discovery call with him. I bet you won't regret it.

Sadaf Tanzeem
I would really like to thank you for not only the wonderful sessions you conducted but the real insight and help you gifted me, which was so critical and immensely valuable. Truly appreciate all the work from your end, which is going to really transform not only my business but my outlook towards life. I'm glad I met you...

Womanpreneur, Dubai (UAE)
I just wanted a Life Coach but found a friend and a mentor in Sandeep. One can discuss anything so freely with him. His energy is so contagious to keep you focused and he will go an extra mile to make your journey of life so beautiful. I am so thankful that I finally found my "Someone Listening", which is not merely his brand name but something he truly is...

Ms. Anu, Italy
I really really want to thank you for what you did ! After so many years, my brother finally stepped out of his own shell and spoke with everyone around. The smile on his face was memorable... Can't thank you enough for making this happen :)

Ms. Prachi
Struggling with so many other coaches and countless sessions over the last 9 months vs. just 1 session with you - I was never so happy and satisfied !! OMG !! Talking to you felt light, as if really "someone listening" to me for the first time. It's really very hard to find a person who gives you ample amount of space to just vent out. I know I can sleep well today, finally, as I know I'm deserving and blessed to get all the answers from you I was searching all this time. Your sessions are the engine and now I'm sure my life will race smoothly. I thank my stars that I found you...

Anshulika
To start with, Sandeep is a very thorough professional in every aspect of his work. Any interaction with him will give a new insight for solving a problem. After all, we all need that kind of sharp vision for resolutions. This guy believes in action than mere words.

Pankaj, Genpact - Hyderabad
Sandeep is not just a fantastic relationship coach but also very good motivator. What he does through his coaching is remarkable. People going through or worried about their relationships can get enormous benefit from his sessions. I am glad we are connected. His kind and helping nature make him an incredible person.

Shilpa, Mumbai
A chance meeting in 2008 changed my life, when I found this dynamic personality. Someone so approachable, when it comes to sharing your deepest fears and personal life challenges. Hes truly committed to his passion of transforming lives and confidentiality is his specialty. You really need to connect with him once & experience the magical bond forever.

Rahul Puri, Deloitte - Australia
Thank you for being Someone Listening. Actually, I cant thank you enough for that. Relationship is such a complex compound and you made it as easy as making a cup of tea. While talking to you my emotions could flow so easily and without hesitation, because there was no fear of judgment. You completely understood my viewpoint and guided accordingly. Youve proved how important it is to have Someone Listening.

Name Undisclosed
Dont know where to start from"My guiding light" this describes you the best in my life. From your sessions to your book " Divorce the best thing ever happened? " to your YouTube channel, everything speaks out just one thing about you "I am here to help you". The world really needs more people like you. How can I forget to mention your one sentence packed with full energy "Do whatever it takes". As a whole, you have helped me a lot to see a clear picture to every confusion in my life. Thank you for just being there.

Megha Dhiman, Founder Cafery & Homebaker
Hi, I don't know from where to start about this dynamic personality. A person full of passion & zest to live life fully and help others. He is really an inspiration and a role model for upcoming coaches. With his experience and knowledge, very well guides people and helps them and motivate them to live the life of their dreams. He is an excellent coach and mentor anyone would look for. He will always be there to support you whenever you need him. So, guys I would like to recommend his coaching as his skills are very effective. I'm blessed to have a mentor like him. Wish you good luck success, health and wealth in life. May all your dreams come true. Stay blessed and happy always.

Angel
Your Patience of Listening, Sense of Understanding and Expertise of Resolution is truly higher than any comment and feedback. I remember when I was really depressed, I really wanted someone with whom I can share my feelings and condition because I was not able to explain it to anyone. When I started telling you about what happened, I remember how you just started listening to me and to be very honest, I spoke my heart out to you. At the end of the call, I didn't understand how, but I was feeling very relaxed. I accepted the truth that there are somethings which we can't change and we should accept the ups and downs of life, as it comes. I must say, you have a gift of GOD . . . and that is your PATIENCE. At last, I want to say, anyone who will connect with you, he/she will always have one faith, that is . . . "someone is always there to listen and help".

Deepak Gupta, MIND Group
I met Sandeep in a very chance meeting in Los Angeles, USA and I must say I thank God till date for this. Sandeep is such a person you can easily open up to and somebody who makes you unexpectedly so comfortable to talk with to share almost anything under the sun. He has a wonderful aura, which allows you to drop your inhibitions. You feel like theres a connection, even upon meeting him for the first time. I have been following his work about mental health and importance of relationships in ones life. You can talk to him freely and his rock-solid advice will help you in the long run. Really amazed to see this multi-faceted personality. Just meeting him once makes you feel so better. I wish you keep touching lives of everyone around, just like you touched mine so positively.

Anurag, Tanla Platforms
Just Like Tom Hagen was to Don Corleone (in the novel The Godfather), Sandeep is my go-to man for any situation where I feel helpless. He is like that wicketkeeper who can take the most accurate DRS (Not MSD - Just Sandy). His calm and mild demeanor is so simple yet very difficult to imitate. The solutions he provides are not merely textbook but highly practical. Each idea is like a gold nugget and each strategy is like a manoeuvre. It doesn't end at the idea stage; he can actually give you a walk-through as if he is living the problem with you. A man of many talents, his ability to multitask yet be laser focused is unmatched. My best wishes to this shooting star, he has fulfilled all my wishes of questions and concerns. I am sure he will continue to relentlessly help his fellow men/women to his best.

Mohit Kapila, KPMG
Youre a gift in my life. A transformer, with whom I can speak my heart without fear, as I know that merely sharing with Sandeep will resolve half of my problems. Yes, I can call you the Most important key of my life, without which I cannot Unlock anything. Thank you for supporting me & always listening to me. You are My Someone Listening.

Muskan Sahu