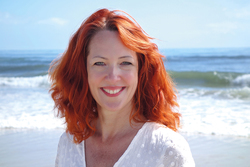 Sandra Kincaid

München, Bavaria
Life Coach, Business Coach, Spirituality Coach
Business Coach and Trainer (585 Training Hours), Certified Hypnotherapist, Certified Ho'oponopono Consultant, Certified Qi Gong Teacher
Are you a conscious person with a spiritual mindset? Do you want to leave the past behind and bring meaning to your life? With my "FROM STUCK TO LUCK" program I help you make a difference!
About Me
I coach brave, open and spiritual minded seekers who want to leave the past behind and embark on a journey to create a world for themselves and all beings where everyone can be happy and free.
Does your life make sense to you or do you sometimes wonder about the reason you get up in the morning? Do you want to find out what you really burn for and become part of a positive movement? Do you want to be happy?
In this case, work with me. I burn for you! If you are stuck in your life and wonder "Is that it?" I can help you to discover all the answers which you are already carrying within you and can't wait to be revealed.
As a former flight attendant and globetrotter I have spent most of my life traveling and experiencing the world from many different ankles and perspectives. My journey has taken me through many different countries and stations. I lived in Harlem, New York, for almost seven years, backpacked through most countries of Asia, galloping the steppes of Mongolia and experiencing life in the jungle of Malaysia …
Throughout all my years I have always been soul searching and contemplating about the meaning of life with a deep believe that we all came here for a reason. Of course we are all individuals and have different reasons and motivations. My journey was never smooth and I have experienced many ups and downs in life, but I always knew I had a mission in life. My mission has become just that - helping my clients to find out what their mission is.
Over the last 25 years I have had a lot of training and experience. My work is based on 25 years experience as former purser, leading flight crews, coach and personal spiritual experience and guidance by my teachers and coaches. I also integrate and teach Ho'oponopono which has become a big part of my life. It is a wonderful tool of forgiveness, solving conflicts and letting go of the past, clearing the way for new possibilities in life.
Does this resonate with you? Then let's get you "FROM STUCK TO LUCK"!
Reviews
2 reviews (5.0)
Sandra accompanied me during a very difficult time, only via Skype. I was in the middle of my divorce, moving with my little daughter to another city. I also wanted to get back to work.... With only a few sessions within about 4 months Sandra encouraged me. She formulated concrete goals and strategies with me. And what can I tell you: Exactly as we had planned, everything happened! Everything in such a short time via Skype. I am infinitely grateful and can't recommend her enough.

Daniela S.
Skype Coaching geht das überhaupt? Es musste sich etwas bewegen, beruflich und gedanklich steckte ich in einer Sackgasse. Ich sehnte mich nach Veränderung. Wegen der Entfernung zu München war Skype Coaching genau das Richtige. Überrascht haben mich der schnelle Vertrauensaufbau und die persönliche Nähe beim Skypen. Mit ihrer einfühlsamen, persönlichen und auch präzisen Art erreichte Sandra Kincaid schon in meinem ersten sehr intensiven Gespräch - dass ich meinen Weg wieder erkennen kann. Ich habe gelernt, gedankliche Knoten zu identifizieren und zu lösen. Mein Leben sehe ich endlich wieder positiv und ich freue mich auf die nächsten Schritte in der Umsetzung. Danke, Danke, Danke, jetzt habe ich wieder Klarheit, Schwung und Sicherheit! Um es kurz zu machen, ich habe meinen nächstes Skype Coaching bei Sandra Kincaid schon gebucht!

Barbara Barnes, Rothenburg