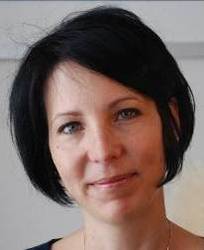 Sandra Seibert

Stuttgart, Baden-Wurttemberg
Leadership Coach, Life Coach, Family Coach
CPC
Women facing crisis and life transitions, having lost connection to themselves; wanting to create authentic, soul-inspired lives. Managers and executives who seek a different way of leadership.
Details

Stuttgart, Baden-Wurttemberg
Hourly Rate: €75 Euros
Gender: Female
About Me
I used to believe that change was terrifying and needed to be avoided at all cost. Today, I embrace change and transitions as powerful catalysts for liberation and empowerment.
I am Sandra Seibert and I can honestly say that change is my middle name. Since my early childhood, I had to face numerous major life transitions including international relocations and the arising conflicts of being torn between two different countries and cultures, dysfunctional family relationships, threatening health issues, as well as deep personal crisis. Although it wasn't easy, I learned how to find new beginnings in these experiences.
Through deep self-exploration, I experienced a profound transformation that helped me create a life in balance, joy, and harmony inside and out. And today, I see change as a gift, a treasured opportunity that invites me to look at my life in new ways and live authentically and aligned with my deepest values and heart´s desires.
Fueled by a deep passion to support others, I am now working as a transformation coach, specializing in supporting women from all walks of life who face their own life transitions or crisis, feeling stressed, overwhelmed, having lost touch with themselves over the years.
Based on my rich life experiences as well as my professional experience as a certified coach, educator, and systemic counselor in youth welfare departments, I developed an inspirational and empowering approach for my clients to turn their challenges into opportunities for personal transformation so they can step into their greatness, discover and live their truth, experience breakthroughs, implement positive change, and create soul-inspired, authentic lives.
Change is the only constant in life. Embrace and celebrate it, for it will open the door to a life beyond your wildest dreams!
Specialties:
Mastering Change & Life Transitions, Personal Growth & Development, Soul-Inspired, Authentic Living, Self Awareness, Stress management, Personal Transformation
Reviews
7 reviews (5.0)
In 2011 and 2012 I had the pleasure to be coached by Sandra Seibert for a series of 12 sessions. When I went into the sessions I had a personal topic that occupied me but I had only a rough idea of what I wanted to get out of the sessions. Thanks to Sandra's ability to be fully present and create a safe and supportive environment, to focus completely on what I said hearing also the underlying meaning and reflect it back to me, her genuine interest in my themes and her flexibility to deal with whatever I came up with and ask powerful questions that made me think, I was able to gain much clarity around the topic that had occupied me so much. Excessively so I was even able to complete several major activities that helped me to free myself from limiting beliefs and unfold my potential. Sandra was always well prepared for our sessions and gave me the space I needed to "sort my thoughts". She frequently acknowledged my endeavors and progresses and I enjoyed the sessions with her very much. I can wholeheartedly recommend her as a coach.

Silvia Richter-Kaupp
Sandra is a very warm & caring woman who is not afraid to dig deep to get to the core of issues. She does so in a way which creates confidence & trust in her clients. I have no hesitation in recommending Sandra as a very effective coach for people who want to make real change in their lives.

Helen May, Life Coach
Sandra is an amazing life coach! Her patience and trust combined with her phenomenal listening skills, created an instant connection and set the stage for powerful growth. She encouraged me to explore new areas of myself that were hidden until I worked with Sandra. Observing and understanding my underlying beliefs allowed me to move past them and achieve my goals. I highly recommend Sandra! I have had many coaches in my life, and she is the BEST!

Dawn McDaniel, BravoDeltaCoaching
I have had a number of coaches in my life and I can honestly say Sandra's coaching – gentle yet challenging and powerful, consistent yet flexible, consciously present, affirming and compassionate – has been the most validating and life changing. Her ideal combination of energy, technique and compassion make her an amazing coach. Sandra has truly helped me to change myself and my life for the better, in a variety of different areas. Coaching with Sandra is a time of the week I always look forward to, and always leave feeling enlightened from!

Alexandra Hughes
I met Sandra at a point in my life where I wanted to start a business and had no idea how to do it, let alone the direction I wanted to go. I had been a stay at home mom for acouple years. She was able to channel my thoughts into real session contents every time. At the end of each session my goal became clearer and closer to reach. Sandra gave me action steps to work on till the next session. This in particular was very helpful to me because it gave me the structure and personal support I needed at that time. I like to mention that the session reports were really helpful because they reemphasized the steps along the way. Sandra put a lot of work into them and that was highly appreciated.With the new found confidence in my abilities I feel now miles ahead.

Andrea E.
Sandra creates such a safe and trusting space for you to share your thoughts. I felt just as comfortable talking with her about very personal matters, as I did around how to structure my business. She has helped me find clarity around a variety of issues and it always felt like a weight had been lifted from my shoulders after each session. If you are looking for someone to listen intently with compassion and warmth and a hand to hold onto and guide you out of the dark, Sandra is your girl!

Pamela Rudisill, In Sight Life Coaching
I truly enjoyed every minute of my coaching experience. I worked with Sandra to make improvements to our family life and to better understand and (re-)define my role as a mother. Looking back, I find it amazing how much ground we've covered and how far I've come. Sandra really heard me and always accepted my feelings but she helped me focus on the positive vs. the negative, on what I have or can do vs. what I don't have or can't do. I consider that a tremendous gift in her role as life coach. I can honestly say that after each session I felt lighter, more assured, and ready to take on the next challenge.

Birgitta B.
The Smart Way To Find A Coach

1 Describe Your Goals

2 Get Matched

3 Free Consultations
Find My Ideal Coach Now