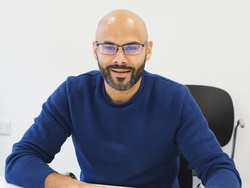 Sanjay Mistry

Solihull, England
Executive Coach, Life Coach, Career Coach
Certified NLP Practitioner & Certified NLP Coach, 20+ Years of Corporate Experience
Helping Professionals Over 30 Develop Leadership, Boost Performance & Navigate Career Transitions To Overcome Challenges, Avoid Burnout & Achieve Solid Success. Improving Professional & Personal Lives
About Me
Hello, I am Sanjay Mistry - Lead Certified Coach at Iconic Coaching.
Accredited by the International Coaching Federation (ICF), a qualified NLP Practitioner & NLP Coach, and Certified Business and Personal Coach the combination is powerful.
I bring over 20 years of Finance (qualified ACMA) and Commercial Corporate experience, within global multi million pound organisations.
My experience is in supporting executives, managers and professionals through phases of transition, personal and professional development and change. Situations including:
★ Wanting to increase competency as a leader/manager of people.
★ Coaching skills to develop & boost performance in your team.
★ Building resilience & increasing grit to ensure you can lead through change.
★ Overcome pressure, stress and burnout to no longer wonder where they day went
★ Develop executive confidence to avoid being continuously overwhelmed or not feeling good enough
★ Simply wanting empowering tools & action plan to tackle an area of life that has been neglected & needs improvement.
★ Going through or considering a career transition; currently not getting responses, feedback or interviews.
★ Tackle miscommunication, which is making work hard, things not get done.

I am a dynamic coach who uses my positive nature and motivational solution focused approach to encourage clients to explore their potential, develop self-awareness and remind clients how powerful they are.
I provide pragmatic feedback and challenge in a motivating and thought provoking manner to maintain support throughout the coaching.
Clients already know success, achievements and do what needs to be done. Currently, they may be stuck, unsure what to do or want to go beyond where they are.
We collaborate to understand your situation and circumstances. Then clarify your goal with absolute precision - a weak undefined goal generates weak results.
We design a plan to take to get you towards your most productive and effective self.
Reviews
3 reviews (5.0)
Sanjay is a passionate individual who has succeeded professionally and has the drive to help virtually anyone he encounters do the same. Personally, he has helped me attain a position (in a relatively short time) with a company that is truly aligned with my personal and business values. He helped me to identify my core strengths and showcase my skills.

Hersel Parmar
Sanjay has such an authentic style and positive mindset which are evident in every interaction, having experienced his powerful coaching first hand, he genuinely enabled me to move forward in so many life changing ways. He is such a present coach, providing space to just be whilst challenging appropriately. His commercial acumen, drive and passion creates a real differentiator in Executive Coaching.

Head of L&D - FMCG
Sanjay has been instrumental in my own self development and unlocking potential I never knew existed. The personal mentorship has enabled me to create and lead a high performance team to drive both top and bottom lines, employee engagement and overall efficiency - most importantly the mind set to ensure consistency. I would have no hesistation in recommending Sanjay to any business leader. Thanks again, looking forward to working with you on the next project

Devan Chauhan