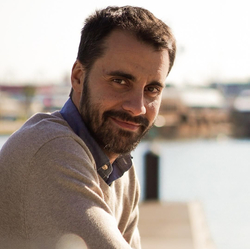 Santi Soliveres

Valencia Norte, Valencia
Life Coach, Entrepreneurship Coach, Business Coach
BA, Mastin Kipp's Functional Life Coach
Do you feel stuck in your career and spend countless hours in a work you don't like? My 'Radical Change' program will help you create a new life where you work in something you love and thrive in life
About Me
Are you struggling in your executive career? Are you having a hard time finding a job that you really love? Would you love to work in something you are passionate about and earn a good living from it?

Maybe deep inside, you know what you should be doing but you don't have the tools or you are afraid to try.
Maybe you are stuck in a job that no longer serves you.
Or maybe you took the leap of faith but your business is not generating as much as you'd like.
Every morning you wake up with less and less energy. You are not motivated enough. You postpone decisions. You regret not taking action. You think it may be too late or that this is for others.
You have read books, listened to podcasts, gone to seminars. But after the initial euphoria, you fall back to your bad habits and patterns.
I know how frustrating it can be. And it doesn't have to be that way.
I was there too... In a job I did not like. Scared to death to take a step in a direction I was not sure was the right one. But let me tell you something. I cannot be more grateful that I took that first step that has led me to the wonderful life I am living now.
That is why I created my 'Radical Change' program. So that you can live a life with purpose and passion, while earning what you want. So that there are no more waking ups already exhausted.
I am passionate about helping people that have courage and want to improve their lives. And I help by discovering what is keeping you stuck and removing these blocks.
So that you take action and start getting results NOW.
I can help you
1. work in something you are passionate about,
2. Where you generate the income you want
3. and where you are the master and commander of your time
If you want to know how we can do it, just contact me and we'll schedule a complimentary discovery call, where you can tell me what your situation is.
Reviews
4 reviews (5.0)
I felt that I was lost. In a world of ideas and perfection that was blocking me to move forward. Together with Santi we have been working on this, implemented small actions that help me take steps. We have also exercised to improve self-esteem and change the attitude. Santi has a good active listening and makes you feel comfortable when you are with him, I would say that he is one of the people with whom I have more confidence. We continue to work and improve every day a little more. Perfection is to do it. Santi y Manu

Manuel Soriano
My experience iss extremely positive. Santi has been coaching me for ca 3 years now, and I can´t be more happy with the results. On the personal and social capacities side, Santi´s got a very personalized and careful approach, that helps you get comfort with whatever challenge you are facing. He makes you feel not alone, not embarrassed, not ashamed for having that situation that you want to solve. On the contrary, you feel he is with you playing the same game. And that itself is very helpful. Additionally, he´s got a full spectrum of tips and tricks, procedures and games, that help you designe the path you want to walk, and he´ll guide you through it so that you do not deviate from the final goal. On the professional side, his vast experience as entrepreneur and investor, his financial background and strength in digital marketing give him a wide variety of tools to help you in any kind of labour challenge you might face. I can´t be more happy and would recommend Santi to everybody, anytime, Santi is your best choice!

Ignacio
Santi has been a light on my path. A person with an extraordinary human value, a brilliant professional and above all Santi knows what he has to say and how to say it in every moment. He has helped question my doubts, he has helped me to ask myself the right questions, encouraging me to find the best answers! Certainly, a big push in moments of change, fear and insecurity. Thank you from the bottom of my

Ángela Plaza
I felt stuck in my job. I knew I had to change but I had no idea what the right path was for me. Working with Santi helped me discover what I love doing and how I could create a business around it. While figuring out what to do next, I was also able to heal some stuff in my personal life too. Now, I am thriving in business and in life and super grateful I made the decision to ask for help.

Azahara