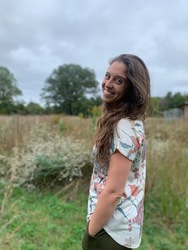 Sara Graybeal

Greensboro, North Carolina
Life Coach, Family Coach, Relationship Coach
MFA
I coach people who want to build community, strengthen connections, and make shifts within themselves (and sometimes within their parenting!) in order to live in better alignment with their values.
Details

Greensboro, North Carolina 27410
9192603598
Send Message
Visit Website
Hourly Rate: $100 to $150 US Dollars
Gender: Female
About Me
I am a life coach who works with people who want to make BIG SHIFTS in order to live their everyday lives according to their values.
For some people, this looks like building community across race and class difference, in order to raise their children with strong anti-racist values.
For some people, this looks like strengthening their confidence in themselves in order to ground into their life purpose and reach new career aspirations.
For some people, this looks like deepening their relationships with their children, in order to live expansive, meaningful lives together.
For some *women* specifically, this looks like rejecting long-term partnership to a man, and embracing less conventional ways of enjoying womanhood.
For some people, this looks like doing the deep-dive work to enjoy incredible friendships and relationships.
And for some people, this looks like none of the above. It might look like something "smaller," something more "basic"—but no less essential, and no less worth investing time and work in.
No matter what, the uniting theme is CONNECTION.
Connection offers us:
*love, accompaniment, and deep support
*trust in ourselves
*incredible relationships with our kids, parents, partners, and friends
*unexpected bonds that seem to "come out of nowhere"
*the ability to show up as anti-racism advocates, social justice warriors, and all-around great people that the world needs more of!
*the freedom to CHOOSE how we live our lives: no matter what we decide, we will have love and joy around us!
*serious empowerment: if we know we can connect wherever we go and whatever we do, what can stop us from doing… literally whatever we want?!
Within a set of structures that enable disconnection and isolation, choosing to reclaim connection is a BEAUTIFUL and RADICAL act. It's also an unquantifiable one—the rewards of rooting into our connective potential are close to limitless.
I work 1-on-1 with clients. I'm excited to meet you!
Reviews
3 reviews (5.0)
Working with Sara in the midst of my breakup was such a gift. I am at a moment in my life where I am hyper-focused on clarifying and living my values. Having her guidance during this time has been a true asset. Sara is an incredibly sensitive, insightful guide, and our conversations were really amazing. It felt like therapy. She's an incredible listener, asked provocative questions, and made me feel safe exploring some very sensitive thoughts and experiences. If you're looking for a safe space to explore complicated feelings and experiences, Sara is for you!

Rosie
Sara has a warm, empathetic and highly relatable approach to her coaching work. She is energetic, creative, and deeply invested in social and racial justice, which makes working with her inspiring while not being intimidating. Working with Sara helped me envision how my life (and my parenting) would be improved by increased racial diversity and she worked with me to brainstorm how I might achieve that. I had a lot of "a-ha!" moments on our calls and looked forward to each one.

H
I am so appreciative of having the opportunity to work with Sara. While I had previously engaged in a lot of thought and discussion around raising anti-racist children and connecting across difference, by going through the coaching process, I was able to identify and challenge some of my own roadblocks to actually making changes in my family's everyday life to be in more diverse spaces and foster more diverse relationships. Sara was non-judgmental and compassionate while still challenging me when needed and pushing me to grow. By going through the coaching process, I've become more confident in my ability to make choices that can support building more diverse connections for my child and family, and I've realized even small changes in how and where we spend our time can make a difference. Taking diversity into account when making everyday decisions has started to become intuitive, and I've developed greater compassion, for myself and others, around doing this work.

M.