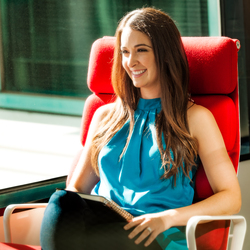 Sarah Anassori

Santa Monica, California
Life Coach, Career Coach, Executive Coach
I coach women navigating career transitions to reconnect to their intuition & creativity, gain clarity on their essential mission, learn to identify & overcome fear, and take bold, strategic action.
About Me
Complete this sentence:
If I was the boldest version of myself in my professional life, I would ________________________.
I support professionals like you in successfully navigating career transitions - be it career switching, jumping companies, leaping from corporate to entrepreneurship, or progressing your career within your current organization.
My coaching philosophy centers on the perspective that we bring our whole selves to everything we do - whether we like it or not! Only through strengthening and unifying each aspect of our life, learning to work with (not against) our fears, and fully stepping into our authentic self, are we truly able to do our best work.
In my practice, I seamlessly unite my years of traditional business experience with my passion for yoga, meditation, personal growth, and leadership to bring a strategic, holistic, and heart-centered approach to the field of coaching. I will guide you through the journey of stepping into your unique potential and signature leadership style using Transformational Coaching Methods and the Strategic Intervention techniques of Tony Robbins with a strong eye to creating a work-life that integrates with your personal mission and ideal lifestyle.
If you are ready to explore what the bravest version of yourself would create in your life and in your work, I invite you to take advantage of the complimentary information session!
Reviews
4 reviews (5.0)
Coaching with Sarah started as a declaration to myself that even while I wasn't clear about what I wanted to step into, I could trust that there was a more purposeful and joyful version of my life available to me. Sarah worked with me to expand the vision of what I wanted, ground some of the details, and make steps toward that vision feel manageable and attainable. She also prompted me with specific questions to help me learn more about the beliefs that were holding me back and what was actually true about myself in the present. I let go of my idea of perfection, my expectation that I must get everything right the first time around, and realized that in serving my heart, I could really do no wrong. I am moving forward on a new, more meaningful path."

Karina, Architect
If you are considering doing this with Sarah... if for some weird reason it just feels right... DO IT. Even if you have no idea what you'll get from it. I started the program from the very humble beginning of, "I'm so dead inside that I can't think of anything I want beyond surviving until I find my bed tonight. Help me find the courage to wish and hope again." And Sarah made space for that call of desperation. I can't tell you that I've come out of everything victorious. But I can honestly say that I'm alive in a different way than I was. I'm on a different path than I was. I'm in a different place than I was. Even if it only moves you by a degree or two... that shift will put you in a completely different place in a year or 10...Be brave. Bet on yourself. Listen to your gut.

Kacey, Marketing Director
I would highly recommend working with Sarah. After going through a lot of personal & professional changes in the past 2 years I wanted to get back in touch with myself and needed a place to start. The program provided that structured support and is now the foundation for all of my personal development work. She provided critical exercises, frameworks, and vocabulary to take me from where I am today, to where I want to be in the future. I know my journey of personal and professional development will be ongoing, but I'm confident that I now have the tools, inspiration and support through Sarah to never get stuck again.

Lorraine, Senior Brand Manager
Sarah's coaching was a complete eye opener for me to break through the barriers that have been holding me back in my business. Sarah offers a warm, gentle, and safe space for you to grow and explore. Her energy is magnetic and creates this amazing vibe to feed off of throughout the program. Sarah's coaching was completely invaluable to me and surpassed any expectations I had going into the experience. If you're someone on the brink of change who needs a little help and feels like even a piece of you is drawn to coaching, do it! You will not regret developing, defining, and stepping into your someday with Sarah!

Leslie, Therapist & Business Owner