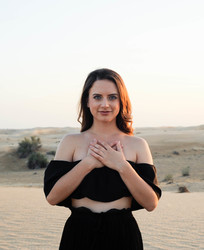 Life Coach, Spirituality Coach, Health and Fitness Coach
LLM
Are you feeling stuck in your life, unsure as to which direction to take? Do you lack self-confidence and often suffer from self-doubt? Do you want to find ease & joy in your life but don't know how?
About Me
Sarah holds a Master of Law from the University of Geneva.
Her love of holistic health and her desire to help others then led her to study at the world's largest nutrition school, Institute for Integrative Nutrition (IIN), where she received her certification as a Holistic Health Coach.
Her education has allowed her to learn a wide range of innovative coaching methods and personal development techniques along with many dietary theories from some of the top health and wellness experts.
She specializes in intuitive life coaching, guiding and supporting her clients to clear out fear, activate their power, awaken their inner wisdom and intuition & build a strong and loving relationship with themselves so that they can create a life they truly love by manifesting their heart's desires.
Reviews
3 reviews (5.0)
Sarah is very knowledge and is a wonderful person to talk to.

Matthew Hussek
Sarah is a light in my life! When I connected with her I felt completely stuck. She has helped me get out of my own way and realign with who I am and want Tor be. Sarah helped me let go of my need to control and just trust in myself while enjoying the ride. Shes easy to connect with and that really helped me open up so I could truly heal myself.

Danielle Loiter
Working with Sarah has been truly heart opening and transformational! She is incredibly loving, encouraging, supportive and intuitive - she always knew what I needed the most and how to guide me to get there. I was feeling stuck in my life, dealing with low self esteem and self sabotage. Sarah has helped me heal deep pains and release many inner blocks keeping me from being my best self. I have learned how to love myself unconditionally, how to turn inwards and listen to my inner guidance.Thanks to her coaching, I am now finally creating a life I truly love! I cant recommend Sarah enough!

Rachel E.