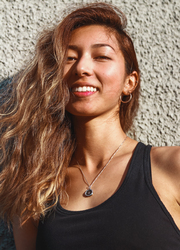 Sarah Shokraie

Vancouver, British Columbia
Life Coach, Relationship Coach, Spirituality Coach
Certified Professional Coach (CPC)
I coach individuals who want to build their self-worth & self-confidence. I help my clients increase their interpersonal skills and self-awareness so they can live authentically & FULLY.
About Me
I'm Sarah, a Certified Personal Growth Coach and Yoga Teacher. I was trained by the International Coach Academy, a leading institute in the coaching field. Having discovered coaching through being coached at a young age myself, I understand the value of investing in people and in growth.
I have a firm belief that the key to getting what you want in your life and from your life all comes down to awareness of yourself. Without self-awareness, how could you possibly take charge of your life, set meaningful goals, find purpose or fulfillment, or make changes that stick?
With Personal Growth Coaching, we focus more on developing your inner-self rather than your outer environment. As they say, you attract what you are, therefore, if you are looking to better understand the world around you and how you fit in, you must first have a better understanding of yourself. It's about bringing more mindfulness, self-love and compassion into your life. It's about rediscovering who you are and why you are here. Each and every one of you is powerful - I'm here to help you recognize and harness that inner power. When we have self-worth and self-confidence, we are more likely to go after the things we want, step out of our comfort zone and try new things. The foundation of how we live rests upon our beliefs and our self-worth. This is why I am so incredibly passionate about helping others build themselves from the inside out.
I offer four different coaching packages, catered to helping you get the most out of our coaching sessions and achieve your goals:
- Relationships Package
- People Skills Package
- Love Yourself Package
- Dream Life Package
While each package addresses a specific life-area, I am fully open to creating a package that suits you and your needs. After all, coaching is all about YOUR fulfillment!
Reviews
3 reviews (5.0)
I had the pleasure to be coached by Sarah. I enjoyed a lot of the sessions with her, they were very very helpful. I always came out of them energized, resourceful and knowing exactly what to do next to meet my goals and move to the next level. Sarah as a coach is really exceptional: very attentive, empathetic and present within the coaching session. You can notice that in tone of her voice, her gentile and touching manners as well as her powerful questions. I really recommend her for those how would like to embark on a life changing experience.

Kais
Through our sessions, I came to realize that I didn't know much about myself until she asked me questions that made me think. She dug deep into the causes of my issues and helped me to let them go. I felt lighter after each session and I am grateful for that. My life has become simpler and I'm overall happier since I started seeing her. She is calm and centred, and I feel very comfortable with her. I look forward to seeing her again soon!

Clarissa, Energy Healer, Vancouver, BC
I really liked being coached by Sarah. I especially appreciated her gentleness and kindness. I felt very confident and listened to while working with her. Every time at the end of our sessions, I had this feeling of empowerment. I gained a lot of motivation to move forward, change and create great things and grow. Thank you so much Sarah, from the bottom of my heart, for your support. You are a wonderful coach

Clotilde, Transition & Expat Coach, Tokyo, Japan