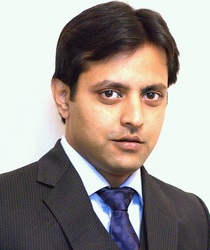 Satyadeep P

Bilekallahalli, Karnataka
Executive Coach, Performance Coach, Team Coach
Associate Certified Coach, NLP-Practitioner, Belbin Team Role Facilitator & Consultant
Do you desire to build a High Performance Team? or transition to a Leadership position. With my 'BELIEVE' program, I shall partner with you to expand your focus in alignment with the Leader you are.
About Me
Satyadeep's explorative inquisitiveness for what enhances an individual's self-belief in harnessing their own potential set him on the path to coaching.
His extensive experience of designing and leading leadership development and talent management interventions in the form of designing and conducting assessment and development centres, Training, Designing and executing development programs in the manufacturing and NBFC space for over 13 years enables him to provide valuable insights for navigating growth opportunities for individuals and organizations alike.
He is an Associated Certified Coach (ACC by ICF), NLP practitioner, and BELBIN Team Role Facilitator and Consultant.
Satyadeep works closely with clients in a creative and thought-proviking process, enabling them to "BELIEVE" and endeavor towards personal and organizational transformation.
Reviews
3 reviews (5.0)
My journey with my coach, Satyadeep P. -Chaos to Clarity! It is said that all it takes is one step at a time to reach there. Most often, we allow ourselves to get entangled by the problems life throws at us and are in utter confusion. I was in the same situation once. But, I am happy that I reached out to my coach. After my coaching sessions with him, I identified my strengths and weaknesses. This gave me a lot of clarity. The best part about being coached by Satyadeep Brother is the way he questions and channelizes my thoughts to find a solution for any problem. He makes the whole process seamless and the solution looks simple. Under his coaching I was able to achieve a number of short term goals in my professional life. I was assigned the responsibility of managing the activities of 6 schools by my NGO. His coaching made me leverage on my strengths (networking and organising skills) and effectively use it to achieve targets. I was able to organize more than a dozen of workshops/trainings across the 6 schools. Other than the coaching in professional front, he has guided me immensely to find my long term goals for life, which helped me in taking key decisions in the present. I am sure anybody who is coached by him will resonate with what I have said.

Divya R.
I was a person with a high inferiority complex and fear. I used to be in a state of worry and could never enjoy my success. I couldn't easily communicate with others and take decisions on my own. Post coaching sessions, I am confident, peaceful, and happy. My communication and decision-making ability is improved. Now I can aim high, achieve my goals, learn from my failures, and resume with optimism. I began to forgive and accept myself better. I am thankful to the coach for recognizing my potential and helping me grow to a level I was never confident about.

Sravani
An excellent coach and a mentor! Following his advises and techniques helps one find one's own solution for challenges. His coaching is a great direction board.

Gomathi