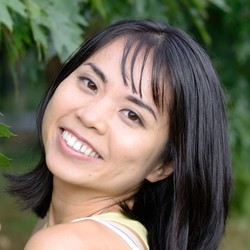 Say Kubo

Mountain View, Hawaii
Career Coach, Entrepreneurship Coach, Life Coach
Certified Yoga Teacher at 200 Hours
I help highly creative people get free from self-doubt and self-sabotage so they can get their work out into the world to fully express and share their gifts, whether it's artistic or entrepreneurial.
About Me
Do you have many creative projects and ideas you've been holding in your heart for many years but struggle to bring them to life because of self-doubt (not good enough, what's the point, etc.), perfectionism, distraction, and other creative pitfalls? If so, I will help you identify and release these blocks so that you can start actually creating and bring your projects and ideas to life to share them with the world.
Hi! My name is Say (pronounced sigh) and I'm a Martha Beck trained life coach as well as a Certified Yoga Teacher. I have a Bachelor's Degree in Business Management as well as in Music and I'm someone who can navigate between the logical side of things and the artistic, creative side of things.
As a highly creative person myself, I understand the self-doubt and self-sabotage that come with expressing yourself in the world. I have helped my clients work through their creative blocks and self-doubt so that they could move forward with their projects and express their gifts in their life.
I also help my clients get clarity about what they really want to do with their many creative/entrepreneurial desires and urges so that they know what the next right steps to take in their journey.
As someone who has studied and has extensive training in experiential and body-centered approaches/exercises, I use tools/exercises to help my clients create shifts at a deeper level so that they can experience the profound changes they're looking for.
I also know that highly creative people can easily get distracted with many interests and talents so I give my clients the accountability they need to stay on course to bring their project(s) to completion.
It is so gratifying to witness my clients have lightbulb moments and to become free of the blocks that have kept them from expressing their gifts. I know everyone has gifts to share and it is my pleasure and privilege to help as many of them as I can as a coach!
Reviews
5 reviews (5.0)
Working with Say to embrace my creativity has been such an amazing experience. She has patiently encouraged me to not only take action and actually DO my art, but to also look at the fears and thought patterns that stop me from doing it. Say has helped me to really identify the direction I want to go in by helping me uncover who I am underneath the thoughts and what I think I want. If you are ready to really explore who you are and live more creatively, Say is a wonderful guide and coach!

Ara, Artist & Stay-at-Home Mom, Virginia
I have worked with Say on a number of occasions when I was either feeling like my vibration was low, or just not feeling as good as I'd like to feel in general about certain topics in my life. She has a wonderful way of helping you see things from many different perspectives (besides your own, which we are often very laser focused on). The way she would take me through certain exercises really helped me FEEL certain emotions that I was subconsciously wanting to stuff down and ignore, and then I would come out on the other side after feeling my emotions and I would feel more powerful and capable. She is a very empathetic coach and you can tell that she loves what she does for the purpose of helping people feel better and more powerful in their own energy. Each time I have coached with her I felt stronger and more grounded at the end! I would definitely recommend her if you are someone who is looking to feel more powerful in your own energy, looking to set new life goals, or looking to lift your vibration in general.

GJ, Fashion Editor, NJ
A few months ago I was at a crossroads in life and the decisions in front of me seemed overwhelming. I found myself feeling withdrawn and anxious. I knew I had to do something to focus myself so that I could make positive choices. A mutual friend referred me to Say for Life Coaching. I did not know what life coaching was when I first met Say and I did not know what to expect from it. I am an intelligent person and the idea of asking someone else to help manage my own feelings was strange to me – actually, sort of embarrassing. Although, we did talk about how I felt, the purpose was more about empowering me with tools to help me manage my life, my choices, and understand what causes me to behave in certain ways. I honestly believe everyone should be exposed to this kind of training. It should be taught in school even. If we all spent more time understanding ourselves, I am sure the world would be a happier place. As for my own personal crossroads – I am now in a very happy place, in a positive state of mind, very optimistic, and having a great time. When issues do pop up, and they always will, I am now armed with a bunch of tools to use that help me solve them and get back to life. I highly recommend Say!

Jerry, Engineer, New York, NY
My coaching sessions with Say have been a wonderful and truly eye-opening experience. As someone who is typically shy, I felt so comfortable talking to her and looked forward to each of our weekly sessions. She is very easy to open up to, and is extremely knowledgeable. I came away with a much better understanding of how to drop back into my body and pay attention to what I'm feeling, and the importance of doing so. It didn't always come easy to me, but Say was so patient and gentle during the entire process, and it really helped me to get past a lot of my own insecurities. She also helped me to look at certain thoughts from different angles, and perspectives - something I truly appreciate. I feel a lot more comfortable with myself and more capable of handling negative thoughts. I would absolutely do it again, and recommend to anyone who is in need of a little motivation to reach out and work with her! I'm so grateful for this experience.

Kristie, Business Manager, Queens, NY
Say is a fantastic life coach. She is an excellent listener and knows just the questions to ask to help you (and her) make sense of your situation. By bringing compassion and empathy to her coaching sessions, she allows you to feel understood and that you are not alone in your thoughts and feelings. Say helped me process the feelings I was having on a remarkably deep level. I had it all figured out in my head, but she taught me that in order to truly let go and eliminate the blocks, I needed to process the situation on an emotional level. She guided me through exercises that allowed me to see what my heart wanted. I am so thankful to Say for helping me tap into courage I didn't know was there and for showing me that my past experiences are not hard-wired patterns that cannot be changed.

Jewels, Teacher, New York, NY