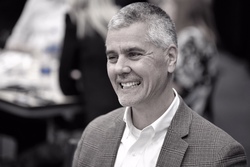 Scott Sterling

Columbus, Ohio
Executive Coach, Life Coach, Career Coach
Certified Life Coach and Certified Career Coach through the Certified Coaches Alliance
I coach people who have reached roadblocks in their personal and professional lives. I help my clients to define for themselves what it means to live a successful and rewarding life.
About Me
Hi, I'm Scott. I am a former HR professional turned Career and Personal Development Coach. I left a rewarding corporate career because I have a passion for helping people to live authentic lives. Lives that reflect their unique personalities, talents and gifts. I found my own path by questioning whether or not the rules everyone else accepted as truth really worked for me, and I encourage my clients to do the same. There are many ways to be successful in life, and it's worth the effort to define that for yourself. You get one life, and there is only one you.
Reviews
Scott doesn't have any reviews yet.