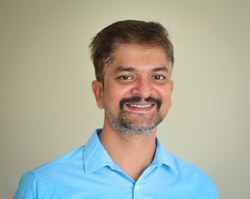 Senthil Shanmugam

Prosper, Texas
Life Coach, Performance Coach, Relationship Coach
MBA, Mindset Transformation Coach, Mental Health & Personal Development Expert
I facilitate your inner clarity & transformation to be happy, confident, motivated and successful to live a fulfilling and complete life. You will harness your fullest potential from my program SISOSU
About Me
I have been a seeker of happiness and true purpose of life. I have transformed from a depressed, fearful, shy, disinterested person to an extremely joyful, fearless, social and live life fully person. I want you to benefit too.
I transformed by mastering my mind. I worked on addressing the root instead of the symptoms. I did the mistake like most through positive thinking, counselling, EQ, NLP and few other. It seemed to work in the short run but the causation remained intact. As I journeyed inwards to the root I realized the emotional sufferings though seemingly caused by external factors are actually dormant internal wounds inadvertently created and guarded by the mind.
I realized if I wanted an external environment that is fulfilling I need to set right my internal blueprint. When I transform myself the world around would transform too. I am the root and my environment is the canopy. This realization catapulted my transformation.
For example if I have to work on shyness I can't fool the mind to think I am not shy through positive psychology, NLP and swish. I can't wear a mask of confidence and attitude for too long. It will wear out sooner or later. I need to get to the root causation of shyness, become aware of it and realize the inherent fallacy to be free of it.
I realized every suffering however painful and ugly can have a happy end. Meditating the right way followed by deep thirst to transform brought about my tremendous transformation in my personal and professional life.
I urge you to transform your life and experience fulfillment. I would like to share deep insight and life wisdom so you don't have to reinvent the wheel. You could save many years and benefit immensely. I have designed a coaching methodology called SISOSU – Step In Step Out and Step Up – that is so effective that you are guaranteed a transformation for a beautiful and happy life.
I would love to hear from you and be part of your inner transformation. Book your free trial session now
Reviews
3 reviews (5.0)
I was feeling very low, unhappy and completely disturbed with problems in my personal life. I had met medical professionals and counselors but that resulted only in temporary relief. Problems arising from a new scenario would again throw me down. I felt that I needed a change in me so that I don't get disturbed with problems in life. I was looking for someone who can help me with such a transformation. I searched through many life coaches on Noomii.com and finally the profile of Mr.Senthil matched with my expectation. The insights provided by him during the first free session gave me the confidence that he is the person I have been looking for. From that day on wards there was no looking back. He has helped me realize many things in life by aiding to go deeper inside me. His wisdom and understanding of life are paramount and monumental when compared to the many psychologists, psychiatrists and the counselors that I have met in my life. I was fortunate to get in touch with him as I have become a completely changed person because of him. I am continuing my sessions with him and feeling new levels of calmness and awareness about my self that I have never felt before in my life. He is way beyond a life coach and happiness coach to me.

Arshad Sarfarz
I worked with Senthil for nearly 2 years. When I joined the programme I was having a dilemma about life, I was restless, I had fear of people, I was not having clarity in my mind. Thus every situation I had faced, approached it with a fearful manner. Senthil took a lot of care understanding my mind, my ideas of life. His wisdom helped me to understand life. Contemplation, asking questions on the ideas of life will unravel many aspects. Now, I am calmer, poised, I don't see life fearfully. It's like a paradigm shift. Even my family started seeing that change and appreciated me. This did not fix only a few aspects of life. Rather every bit of it. When one has clarity in mind by inference one would comprehend they play around in it's true sense. Overall I had a new life in a sense - Calmer mind, Sharp Intellect, Success, Better relationships. I strongly recommend Senthil. Surely it would be a great journey, the end of which there will be enlightenment.

Sagnik
The experience on life coaching with Mr. Senthil Kumar was truly amazing. The clarity that I got from him has helped me to deal with all my life challenges. He has a unique way of making things clear and being a mirror so that we understand and know in deep about ourselves and in the process undergo a phenomenal transformation. I will be forever grateful to him. Thanks

Rose