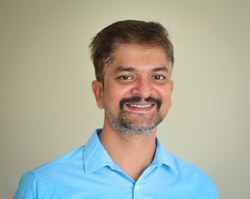 Senthil Kumar

Prosper, Texas
Life Coach, Executive Coach, Relationship Coach
Are you a corporate executive struggling to find joy at work, relationship & personal life? I facilitate fulfillment in your life, career & relationship through my program "Star performers"
Details

Prosper, Texas 75078
2149734433
Send Message
Hourly Rate: $50 to $150 US Dollars
Gender: Male
About Me
I facilitate fulfillment in your life, career & relationship through my program "Star performers", "Being Happy", "Knowing Self" which works on empowering the mind. Knowing your mind allows you to use it the best to solve your work - life challenges.
Understanding the mind
Have you ever mastered your mind? Isn't mind the most important tool that determines your happiness, motivation, direction and success? If that is true do you know how to use this master tool? I call mind the master tool because the well functioning of this tool, the mind, ensures that every other tool - knowledge, talent and skill - could be put into effective use to maximize result.
Once you master this tool called mind life happens your way until then life seems to be a rudderless journey.
Every action and inaction of yours is determined by your desires and fears. Every desire is your motivation and passion. Every fear is your hesitation and postponement. Every desire is your direction. Every fear is your dilemma. Every desire is your action. Every fear is your inaction. Now you know you don't need motivation but be free of fear for fruition of dreams.
Unlike the conventional life coaching and psychological counseling my program doesn't focus on symptoms it addresses the root of the challenge. It will remove the deep rooted fear.It removes the thorn of the feet instead of bandaging the feet with thorn intact. It cuts off the chain tied to the feet of the bird instead of strengthening the wings. That's the difference.
The result is you have a permanent solution and no forever tiring and boring mind controlling practices. This is possible because you will understand the complete working nature of the tool - the mind.
My work is to facilitate you to tap unto your inner clarity and serenity. Your mind already have all the answers to the challenges you face. You simply have to access it.
Sign up for a free consultation call and take the big leap of faith in your life transformation
Reviews
2 reviews (5.0)
I worked with Senthil for nearly 2 years. When I joined the programme I was having a dilemma about life, I was restless, I had fear of people, I was not having clarity in my mind. Thus every situation I had faced, approached it with a fearful manner. Senthil took a lot of care understanding my mind, my ideas of life. His wisdom helped me to understand life. Contemplation, asking questions on the ideas of life will unravel many aspects. Now, I am calmer, poised, I don't see life fearfully. It's like a paradigm shift. Even my family started seeing that change and appreciated me. This did not fix only a few aspects of life. Rather every bit of it. When one has clarity in mind by inference one would comprehend they play around in it's true sense. Overall I had a new life in a sense - Calmer mind, Sharp Intellect, Success, Better relationships. I strongly recommend Senthil. Surely it would be a great journey, the end of which there will be enlightenment.

Sagnik
The experience on life coaching with Mr. Senthil Kumar was truly amazing. The clarity that I got from him has helped me to deal with all my life challenges. He has a unique way of making things clear and being a mirror so that we understand and know in deep about ourselves and in the process undergo a phenomenal transformation. I will be forever grateful to him. Thanks

Rose